Blog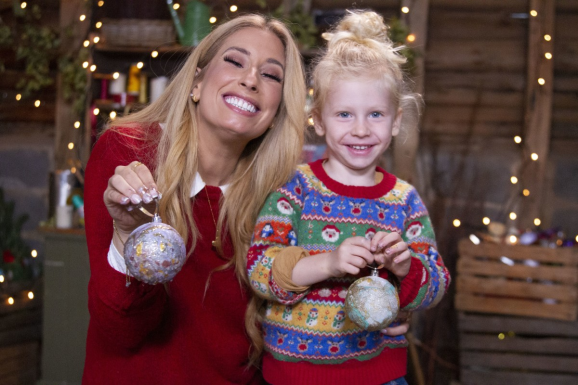 BBC/Optomen/Sean Valentine
When it comes to Christmas, you can always count on Stacey Solomon to get you into the spirit of festivities. From paper snowflakes to crafty pampas trees, her Instagram is a happy hunting ground for those of us looking to spread some homemade cheer during the holiday season.
This year, it seems Christmas has come a little early as the undisputed queen of DIY is treating us to a crafting extravaganza with her brand-new BBC special Stacey Solomon's Crafty Christmas. Lucky for you, we've rounded up her top three festive crafts from the show. Glue guns at the ready!
DIY Bauble Wreath
What you need…
Baubles
Wire coat hangers
Jewellery pliers
Glue gun
Ribbon
Scissors
Instructions
1 Open the coat hanger using the small pliers and shape it roughly into a circle. Slide the baubles down the metal wire one by one, making sure you alternate the colours and, more importantly, the sizes. The smaller baubles will fill in the spaces between the bigger baubles, making the wreath look full.

2 Rotate the baubles around the wire to fit snug against one another as you place them one by one. Once the wreath is full, use the pliers to bend and wrap the end of the wire back into position. Glue gun and wrap coloured ribbon around the exposed hanger. Add a bow using the ribbon. 


Homemade Wrapping Paper
What you need…
A roll of brown paper
Acrylic paint
Sponges
Old pen
Paper plate
PVA glue 

To make the dabber
Get a sponge and cut it to the shapes of holly and berries. Stick sponges to an old pen using glue, to make it into a dabber. 


Custom Paper Instructions
Roll out your paper. Get a paper plate and pour the two desired paint colours. Take the leaf dabber and dab your design onto the roll of paper. Take the berry dabber and repeat. Leave to dry for approximately four hours. 


Marbled Baubles
What you need…
Baubles
Plastic container or bowl
Toothpicks
Nail varnishes
Water
Disposable gloves (if desired)

Instructions 

1 Fill a plastic container with water. Using the nail polish brush, add several drops of the first colour into the water. Put the brush close to the water to help drop the polish. If the brush is too far away, the polish will sink to the bottom of your container. 

2 Add several drops of the second colour inside the dots already in the water. Add more drops with a third colour, some inside the other colours and some outside. There's no right or wrong way to do this! You can just drop polish randomly into the water if preferred. 

3 Using a toothpick, quickly swirl a line or two through the nail polish. Dip the ornament face down into the water. The polish will adhere immediately. Hang the ornament to let it dry and repeat the process. 

Watch Stacey Solomon's Crafty Christmas on BBC One and iPlayer at 8pm on 15 December

Busymitts
Share your makes