Blog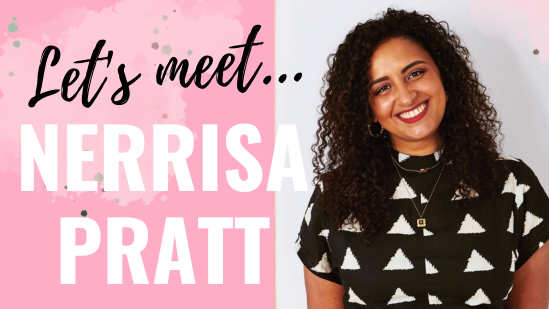 We chat to the bargello extraordinaire about her crafting journey and the importance of creating joy
Bright, colourful and bursting with fun, Nerrisa Pratt's beautiful bargello designs are eye-catching for all the right reasons. Her signature craft has become huge in recent months thanks to social media, but it was actually something the maker stumbled upon by chance.
Drawn to Colour
"A few years ago, I was on the lookout for a more mindful craft, but subtlety isn't my forte – I wanted something fun and bold to do whilst curled up with my cat in front of the TV. I fell down a Pinterest hole and stumbled across the loudest, over the top set of stitches; it was bargello. I scooped up the random collection of supplies I already had in my craft stash and the rest is history." Nerrisa now not only has her business The Bargello Edit, which sells all-in-one kits so anyone can give the stitchy technique a try, but a book to boot.
Bargello is packed full of creative inspiration and stunning projects that you'll want to proudly have on display. "I like to create things that'll have a purpose once they're finished," she explains to CB. "Crafting can sometimes be wasteful so all of my ideas are based on creating something beautiful that you can show off in your home or wardrobe. The Barbara
bag from my book is my all-time favourite project. I had to keep it under wraps for a year after making the original sample, so now I love being able to use it and take it out with me all the time!"
Day in the Life
No two days are the same for Nerrisa, but she tries to create a sort of routine when it comes to stitching her bold creations. "I like to start each day by packing orders from the previous day and then, while the light is good, I create social media content – I'm really enjoying making reels and TikTok videos at the moment, especially as I now have a dedicated studio space! Once all the admin is done, I can be working on anything from designing new products or deciding on new colourways, to speaking to stockists about wholesale orders."
Outside of work, though, you can still find Nerrisa crafting – in fact, it's her favourite thing to do! "I would say dressmaking is my go-to craft in my free time. I'm also really enjoying punch needle and attempting to teach myself how to crochet… again!"
Join in the Fun
Have Nerrisa's oh-sogorgeous designs got your brain whizzing with excitable project inspiration? Us too! If you're ready to pounce onto your craft stash and get started, heed Nerrisa's advice. "Just make things that bring you joy," she explains. "People will notice, even when you think they won't. I mean, just a simple need for something more mindful in my life started with a scroll through Pinterest to a book deal, a successful small business and lots of exciting opportunities I could never have even dreamt of." For someone with so many talents, it's hard to predict quite what the future holds for Nerrisa, but we know that whatever it is, that it'll be as colourful as possible!
Browse Nerrisa's kits and purchase her book from thebargelloedit.com

Busymitts
Share your makes