Blog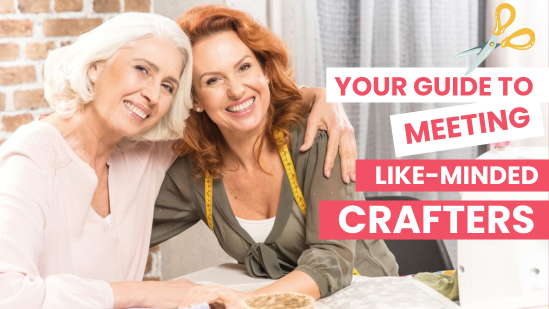 Everything's better when you share, so they say. Whether it's a kind word of encouragement, advice on a project or just a hug, we're all better off with the support of buddies – and that goes double for creative partnerships that flourish as our talents bring us into contact with other crafting souls. Some of the world's most inventive artists, from Gauguin and Van Gogh to Barbara Hepworth and Henry Moore, have enriched their potential through bonding with fellow visionaries. Sharing our skills and passions with others is a valuable exercise in self development as well as social bonding; it can also be a healing process, helping people overcome loneliness, insecurity and anxiety. If you're a friend in need with a creative urge to satisfy, a crafting workshop or club could be just what the doctor ordered, inspiring you to greater heights and enriching your life in ways you never expected. So sign up, take a chance, and celebrate the start of a beautiful friendship.
Join The Club
For many crafters looking to make something meaningful, the potential isolation of the process can be scary. Crafting clubs represent a vital alchemy; a special exchange of ideas and a nurturing environment to help people break past their fears. From the loneliness of a big city, highlighted by social enterprise manager Anna Krukowska, to the agoraphobic symptoms felt by learning disability nurse Michelle Dawson, the desire to touch base with like-minded creatives is as much about sharing an experience as it is the craft itself. Michelle, who found new friends by contacting Create and Craft Club's Pen Pal network, says, "Everybody's mojo runs low sometimes – seeing what someone else has made, or discussing personal blocks, does make a difference." Deciding on the right club for you is a personal choice. Some, like Michelle, opted for the low-key dynamic of a pen pal scheme, while others, such as Sarah Greeff, were drawn to the larger, formalised framework of the Women's Institute (WI) to help give her a creative push. What these groups share is a desire to foster a positive environment with common interests. Workshop organiser and stitching teacher Amanda Bowden points out that this creates a fertile ground for developing relationships and, in turn, makes us more receptive to learning. Beth Gill, head of community for crafting network service Obby, agrees it is quite often a natural reaction to connecting over a mutual project. Beth, who has met several of her closest friends through Obby, adds: "That's the beauty of busying the hands; it steadies the mind and makes it so much easier to interact without inhibitions."
Shared Vision
Quite often, close friendships spring up between women who might not meet under different circumstances, as with stitching teacher Lorna Knight and nurse Janice Barrett, who met at a corset boning event. A passion for stitching is just one of many interests the two women share, yet crafting has been the catalyst for friendship and personal growth, as they both acknowledge. "Having a window into someone else's life broadens your horizons," says Janice. "Sewing gave us the opportunity to share that." Simone Murphy, a model and fashion influencer who befriended Beth through Obby events such as the craft fairs, also views these clubs as a conduit. "I thank crafting for allowing us to meet – but now we are friends for so many reasons," she reflects. As The Sewing Bee's Stuart Hillard points out, crafting groups help bridge the gap between people with different
backgrounds. While creating is important, the bond generally covers a lot more emotional ground. "A shared love of sewing and patchwork is often at the heart of my friendships, but invariably our conversations cover the world and every issue in it," he remarks. Amanda agrees, adding: "My classes include folk who have gone through major life events. That shared time at the
sewing machine creates quiet contemplation or an escape from what life throws at them." For digital marketing officer Sophie Mackenzie, a friend of Simone, creative bonds resonate on a sincere emotional level: "Obby has taught me that you should be proud of your individuality and humanity as well as your creativity – your vibe attracts your tribe," she says.
Happy Together
At the heart of the crafting friendship is a unifying lightness of heart and humour that illuminates the dark edges of normal living. As internal auditor Aurelia Le Normand explains, it's no small matter to be able to confide in someone who understands the joys of ribbons and trims. Sonia Bownes, founder of London Craft Club, agrees: "People are so happy to meet another fabric hoarder, and we laugh about it in a way that only crafters would get." These clubs speak to our need to be accepted without the usual social props. "People who craft have a softness and patience I haven't found elsewhere," adds Simone. "It's so nice to bond over something so life-affirming!" Sonia elaborates on this positive foundation: "Other friendships may form over shared agitation, but crafting is a conversation about what you can do, what you've achieved and what you aspire to do." Reflecting on a friend she has made through the Create and Craft Club scheme, Michelle remarks on the inspiring dynamics that are possible even when there is a limitation in time or geography or an underlying ailment. "My friend has complex physical health issues, which limit her in a lot of ways, but she is one of the most upbeat, optimistic people I know." Michelle goes on to say of her crafting buddy: "She's helped me to look at my problems with new eyes, to see the positive in things."
Healing Hands
Key to the crafting friendship is the therapeutic nature of the bond, as Lorna points out, "My Tuesday regulars have renamed their group Sewing Therapy, because this is how they feel about meeting every week." That potential to make lives better emotionally, as well as creatively, is massive, says Sophie, and alleviates all manner of stresses from the mundane to the existential. "When my hands are moving, my mind isn't racing; that community aspect of crafting really helps with mental health." For many crafters, the act of meeting in a creative way can truly heal, as for Maggie Walker and her Crafty Crew group in Belfast. Maggie, who teaches needle felting, crochet and cardmaking, says, "We have all become great friends and, although most of us have health problems, our group lets us forget about our aches and pains for a while."
Alongside the healing aspects of crafting bonds are opportunities for helping others through charitable collaborations. Amanda's crafting events include making bags for local hospitals, while Stuart's crafting buddies make friendship quilts for injured service men and Project Linus; he notes how making something together is a tangible way to share support where it is needed most. Simone adds, "Craft is an attitude – banding together to create something special." Above all, these groups reinvigorate, as Sonia acknowledges how reaching out to others can help us be more mindful, as well as proactive. "It's about the process as well as the result. Hours will pass while I'm with my crafting buddies, but I'll look up to find the world hasn't ended, and I feel ready to take on anything!"
Want to meet more like-minded crafters? Sign up to Let's Knit Together at letsknit.co.uk. Every member will gain access to an exclusive Facebook group, where you can share makes and connect with other fellow creatives on a daily basis!

Busymitts
Share your makes