when you subscribe to magazine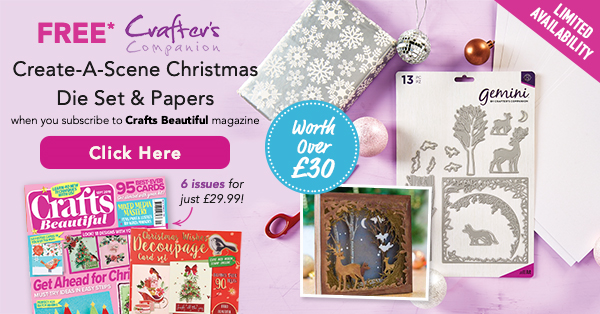 Create stunning 3D cards with this create a scene Christmas die set. This kit also includes papers with a touch of gold to complete your Christmas cards.
Layer them up to create a 3D scene or use your dies individually.
Your Kit Includes:
• 13 Individual Dies
• Touch of Gold Paper Pack: 10 sheets of A4 Snow White - Hint of Gold Centura Pearl card. Printable and 310gsm
CLICK HERE
Great reasons to subscribe...
Every issue comes with a bonus gift worth £130 over the year
HUNDREDS of card making projects
Tips and advice from over 25 EXPERTS
Over £30,000 worth of PRIZES
THOUSANDS of projects
*Terms and Conditions apply, click through to payment page for full details.
Membership Rewards
Enjoy regular member benefits as part of your subscription:
Exclusive offers
Exclusive competitions
Craft Store discounts
Star subscriber - coming soon!
Plus much, much more...