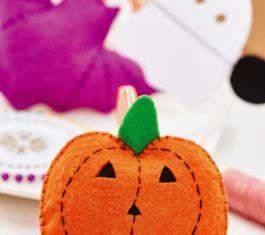 You will need…
Felt: orange, purple, green, white and black
Fabric, orange
Embroidery thread, black
Ribbon
Toy stuffing
Adhesives
Pumpkin and Bat Decs
1 Using the pumpkin and bat templates, cut two of each shape from orange and purple felt. Snip a pumpkin face from orange. Place black felt behind the pumpkin face and use a little glue to fix in place. Using black embroidery thread, sew small running stitches on the pumpkin face from top to bottom. Repeat for the bat wings.
2 Place the front and back pieces together and using embroidery thread, blanket stitch around the edge. When you get to the top, insert a loop of ribbon. For the pumpkin, also add in a green stalk. Stuff both decorations and finish by knotting the ends, then feed the tail inside the decoration.
Party Bunting
1 Print out the word 'spooky' in your favourite font. Trace onto fusible webbing and iron onto the back of orange fabric. Use fine snips to cut out the letters and leave to one side. Trim small flag shapes from white felt. Make sure they're big enough for the letters to be sewn on top.
2 Peel off the backing paper from the letters and gently iron onto the felt flags. Use machine embroidery to fix the letters in place. Lay each flag on top of a larger piece of felt and sew the two diagonal edges, then cut the flags out.
3 Place a loop of ribbon onto the first letter flag, machine-stitch to the end, then continue sewing across the open tops of the flags, placing the next flag under the machine foot as you go. On the last flag, inert another ribbon loop at the end and sew to fix in place.
Download Now