Blog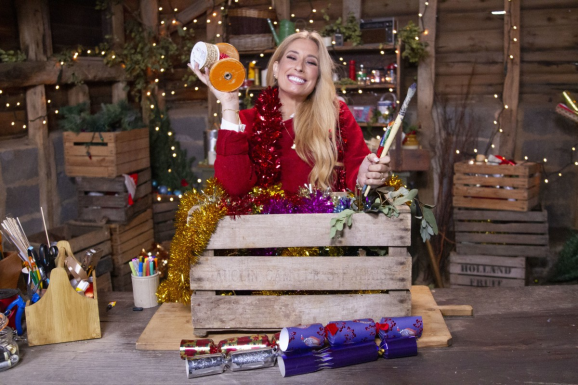 BBC/Optomen/Sean Valentine
Is there anything Stacey Solomon can't do? She can sing, she can present, she can declutter your home faster than you can say "spark joy" – and now, the multi-hyphenate is adding to her repertoire with her brand-new crafting TV special.
On December 15, Stacey will take to our screens in Stacey Solomon's Crafty Christmas. With a little help from her family and friends, she will be decking the halls with a difference, sharing some clever ways to cut costs, upcycle and spread homemade cheer this Christmas. Here's everything you need to know ahead of adding it to your festive to-watch list.
Where can I watch Stacey Solomon's Crafty Christmas?
Stacey Solomon's Crafty Christmas will air on BBC One and iPlayer at 8pm on Thursday 15th December 2022.
What can we expect from the special?
The hour-long one-off special will follow Stacey, Joe and the kids as they hand-make gifts and decorations. In true Stacey style, there are ideas for all ages, with son Leighton helping to create DIY crackers, and three-year-old Rex getting messy with marbleised baubles for the tree.
After consecutive Christmas seasons spent apart, this year Stacey wants to bring people back together for a festive shindig. With the help of professional organiser and Sort Your Life Out co-star, Dilly Carter, Stacey will transform a neighbouring barn into a Christmas grotto for a party with her local community, putting all the family's crafty creations to good use.
Q&A WITH STACEY SOLOMON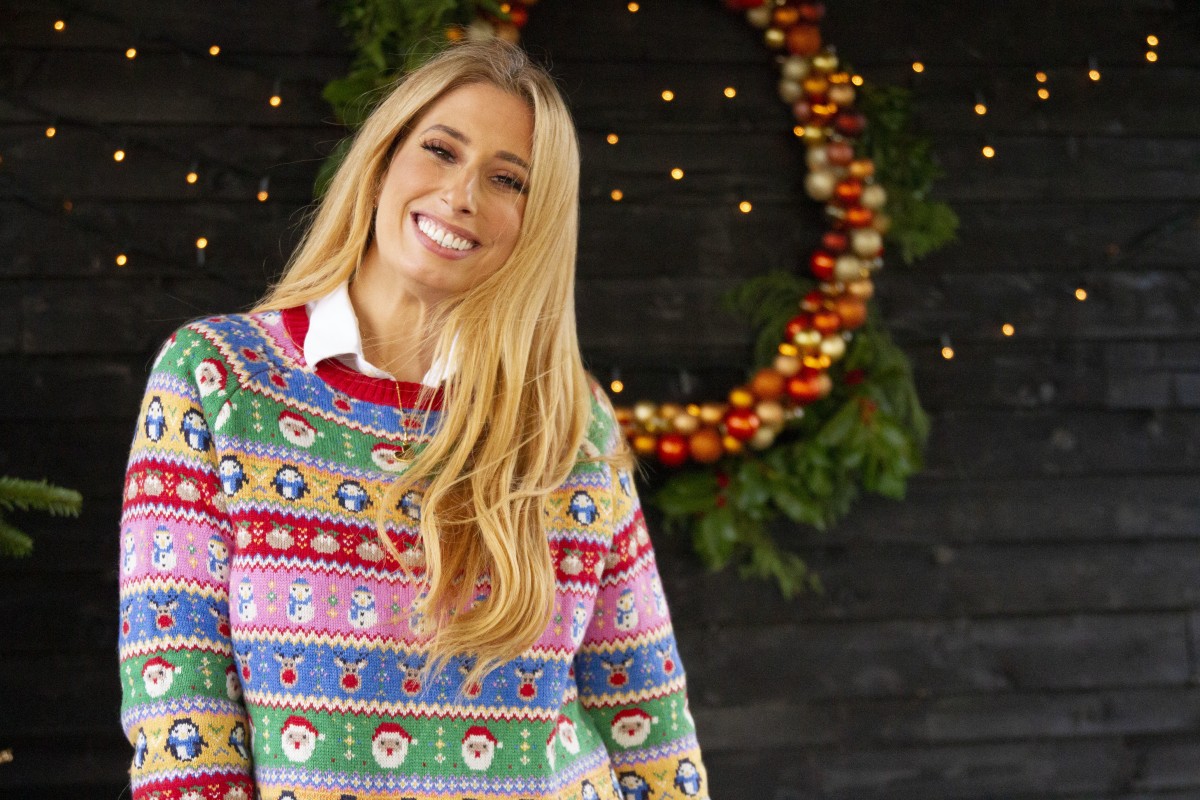 BBC/Optomen/Sean Valentine

Hi Stacey. 'Tis the season! Why did you want to make this show?
Anyone who knows me knows how much I love crafting, and there's no better feeling than giving someone the perfect gift. DIY gifts mean so much more, and they save a bit of money too.
What do you love about crafting?
Crafting is something I can really lose myself in. Life for many people is really fast and busy, and when I craft my mind has to focus on the task at hand. You can have all these thoughts running around in your head but you have to push them to one side to focus on the thing in front of you. It's so relaxing.
Where do you get your ideas from?
I will look anywhere! There's so much online now – Pinterest, TikTok, Instagram. I'll be inspired by anything and everything. I'm trying to adapt the ideas I see online to make them even simpler, and I'm trying to use things that everyone has around the house. The bauble wreath is something I'd seen on TikTok but they were using different materials. We decided instead to use a coat hanger – everyone has one of those.
What top tips would you give to someone who's never tried crafting before?
It's fine if it goes wrong… that's part of the fun. I'd say the bauble wreath is one of the easiest crafts you can do. It's literally threading baubles on a hanger. It's minimum effort and maximum satisfaction because it looks really posh!
What was your favourite thing to make with your family?
Me and Rex made these marbled baubles by dipping them in old nail varnishes in a bowl of water, which I thought was really cool and really easy. He loves messy play so it kept him occupied for an hour. He didn't leave the table. He's three years old and his attention span is questionable, but he loved it!
...and Dilly came to help too?
Dilly is so savvy. Even when you think that an idea is a good one, she'll either tell you an evolution of that idea, or why it won't work. She elevates everything. She doesn't just look at things that are aesthetically pleasing, she actually finds things that will make people's lives better.
Christmas is just around the corner. What's planned in the Solomon family household?
Lots more crafting, of course. I'm yet to make my Christmas door! But I'm most looking forward to spending time with Joe and the kids. It's been a busy year so I'm excited to wind down and just do nothing.
Q&A WITH DILLY CARTER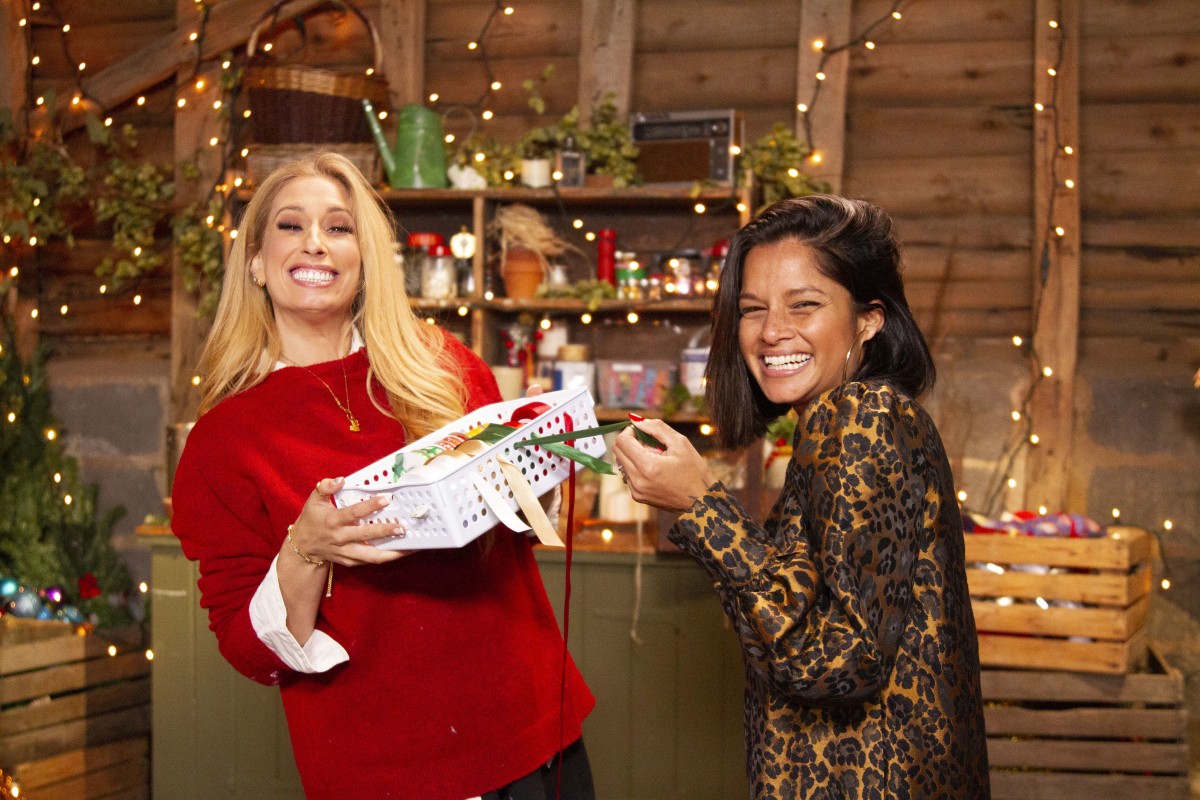 BBC/Optomen/Sean Valentine
Hi Dilly, Christmas is coming and we need your help! What top tidying tips can you give us for the festive season?
Firstly, a ribbon dispenser is key! You can make your own at home. Secondly, separate all your different wrapping bits into containers – one container for ribbon, one for gift tags, one for glitter. Split up your tools too – Sellotape, stapler, parcel tape. If you have space, consider creating a wrapping station out of the way of prying eyes. Tuck yourself away and wrap in peace. Finally, use brown paper as wrapping paper – it is cheaper and great quality, and you can decorate it yourself to make it personal, sentimental and bespoke. We'll show you how to do this in the show.
What about our decorations? They always get tangled!
Take a hanger from the wardrobe and wrap your lights around it – this will stop them tangling. You could also use the cardboard tube from the middle of the wrapping paper roll. Rather than spending a fortune on fancy storage for Christmas decorations, use old shoe boxes to store everything safely – you can organise your decs by colour, sparkle, or where they go on the tree, and you can stack the boxes easily. You could even reuse an old Quality Street container.
Why did you want to be a part of this show?
Just in case it isn't obvious enough – I adore Stacey! We work so well together and complement each other brilliantly. We have a genuine friendship and we're a great team, and I loved going to her local community to help her give back to her friends and loved ones. We are both so family-orientated, and I knew we would make a difference with the show and have fun too. Also, I have lots to learn about crafting!
What are your plans for Christmas this year?
I am keeping things simple this year and having a very traditional family time at home – open fires, delicious food and all the people I love most around me. Who could ask for more?
Stacey Solomon's Crafty Christmas will air on BBC One and iPlayer at 8pm on 15 December
Feeling festive? Why not give Stacey's top Christmas crafts a go?

Busymitts
Share your makes