Blog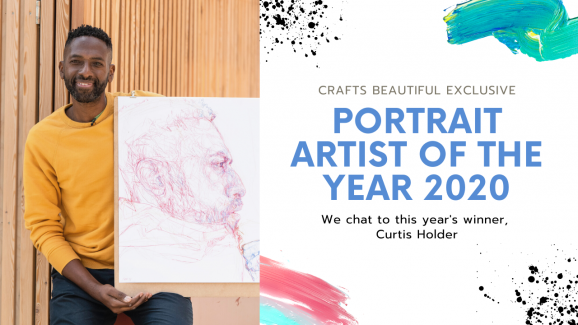 Portrait Artist of the Year's newly crowned champion Curtis Holder chats to CB about his unique drawing style and unforgettable moments on the show
London-based Curtis is a part-time primary school teacher who is committed to showing children the unlimited joy that comes with creative pursuits. Focusing on people and the human form, Curtis' stunning graphite pieces led to him applying for the latest series of Sky Arts Portrait Artist of the Year, where he consistently wowed judges Tai Shan Schierenberg, Kathleen Soriano and Kate Bryan. His fascinating intricacy and style proved to be irresistible to the panel, and Curtis was crowned as the winner in the final episode aired on Wednesday 16th December!
"The whole experience of Portrait Artist of the Year was one giant highlight. The crew and the other artists were the most amazing and talented people you could ever wish to meet; we'll be in touch for a very long time. For me, one moment that sticks in my memory was when I first met Carlos Acosta and we were able to share a creative moment working together in his dance studio. I just felt so privileged to be able to draw him in his environment. He was open, warm-hearted and straight-talking. He generously shared stories of his challenging early life in Cuba and his journey into dance. His story is extraordinary, and he talked passionately about his love for all forms of dance. It was a special day and it made the whole experience so worthwhile."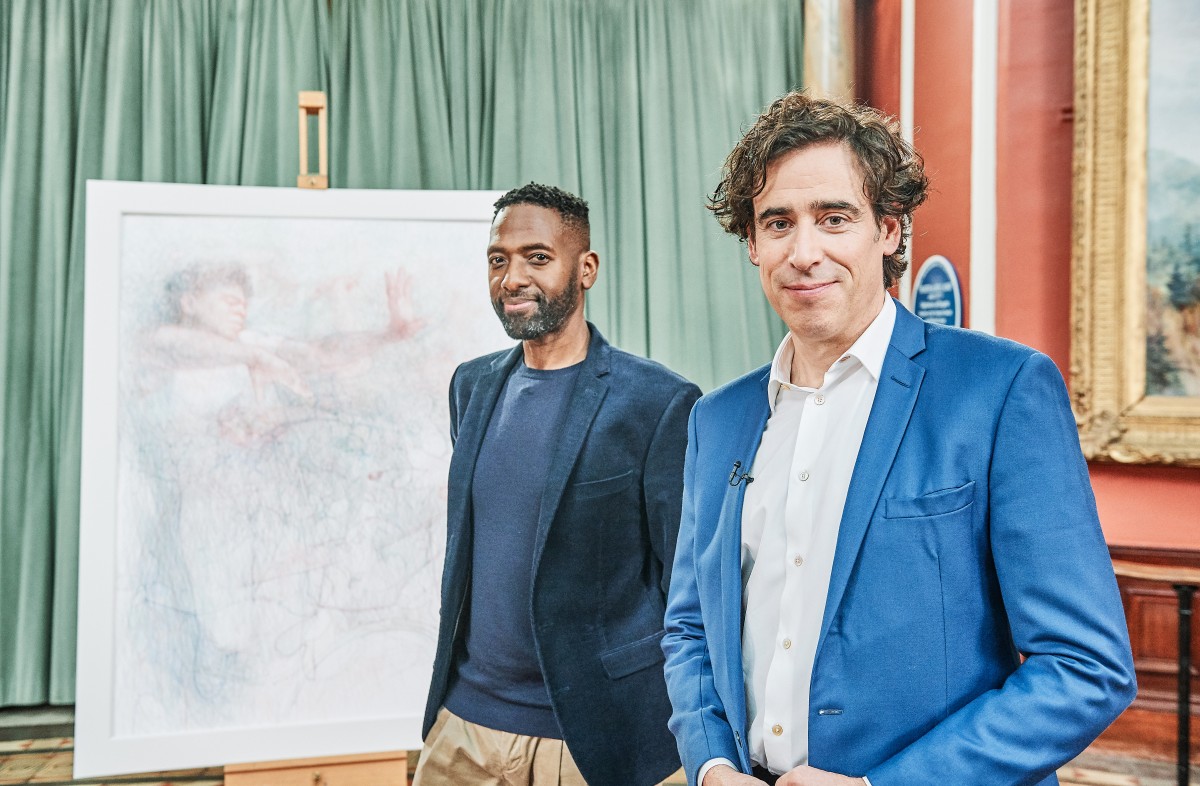 A LIFELONG PASSION
Curtis' interest in drawing and art began from a very young age. "Since I was a small boy, I have used my pencil as a tool to observe life, express emotions and tell stories. After completing my Foundation Diploma at Loughborough College of Art and Design, I went on to study a degree in Graphic Design at Kingston University. Fast forward quite a few years and I returned to education in my thirties to study a Postgraduate Diploma in Character Animation at Central Saint Martins in London. However, all of those disciplines were fairly technical, so figurative drawing wasn't always a priority. In many ways I feel that I'm more or less self-taught when it comes to drawing, with the help of several inspiring life drawing tutors who influenced me along the way. I now draw from life every day of the week; it is a key part of my practice."
WORK IN PROGRESS
When it comes to starting a new portrait, Curtis is very methodical. "When I'm working on a piece I really enjoy the initial conversation with the person I'm drawing. I prefer to start every drawing with a conversation; it's an opportunity to glimpse into the mind of the subject, make a connection and shape an idea. My goal is always to translate their emotions and the mood of our encounter onto paper, along with my own feelings and observations. It's essential to capture that person's essence. I need to understand them a little, even if it's a fleeting understanding.
"I mainly draw, so I predominantly work in graphite or coloured pencils and sometimes charcoal. I also paint in acrylics and oils. Out of all the mediums graphite pencils are my favourite. I think it's because of the immediacy; there is very little prep involved so you can just pick up a pencil and make marks. It's that simple!"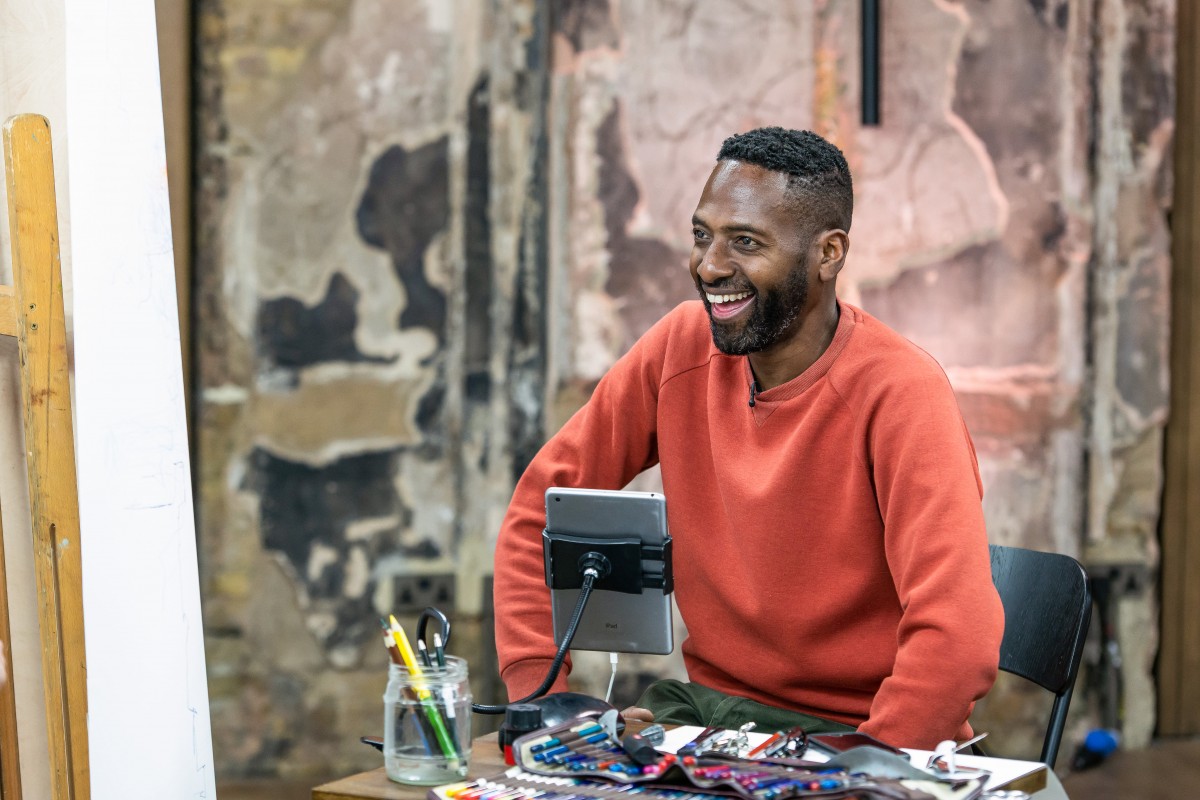 CREATIVE PURSUITS
Curtis doesn't limit his talents to just drawing, he also experiments with a wide range of crafts. "I used to be the Design and Technology Coordinator at my last primary school, so if you ask any of the children who I taught there they'd tell you I enjoy making anything and everything. I sew and make a lot of my own clothes, including jeans and a few tailored jackets. I've also made ceramics, leather bags, a pair of trainers, and I enjoy cooking. If you are a creative person, I think the outlet for your creativity can take whatever form you like.
"Whatever your practice – painting, drawing, printmaking, collage – I think it's best to do it as often as you can. Create when you're feeling happy, sad,
miserable, moody, upbeat, excited; whatever the emotion. In the past, I would draw to feel happy or to improve my mood. However, being an artist is about being brave enough to use your skills to explore your full range of emotions. Sometimes what you create is unsuccessful, but other times there are strokes of genius. Only by exploring all your feelings will you understand yourself and your practice, and realise your full potential." CB
Recommended Posts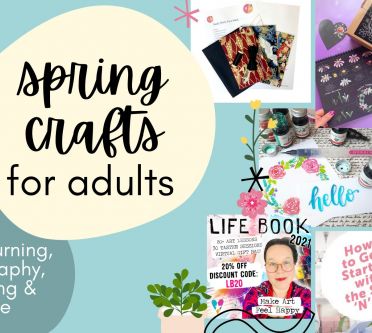 Spring Crafts For Adults: Woodburning, Calligraphy, Painting and More
Busymitts
Share your makes