Blog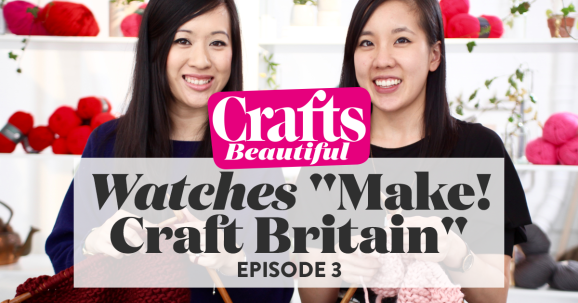 The third and final episode of Make! Craft Britain aired last night on BBC Four with two more groups of amateur makers trying their hand at a different craft. This week focused on mosaics and knitting as once again the calm tones of Martha Kearney narrated the successes and challenges faced by the participants.
Mosaic was up first and we were swiftly transported to Ford Village in the serene, rolling hills of the Northumberland countryside. The workshop was held by renowned mosaicist, Tamara Froud and the task facing the group of eight was to design and create a mosaic house plaque. The group ranged in age, gender and creative skills, and Tamara soon set to task teaching her students how to cut, score and snap tiles using clippers.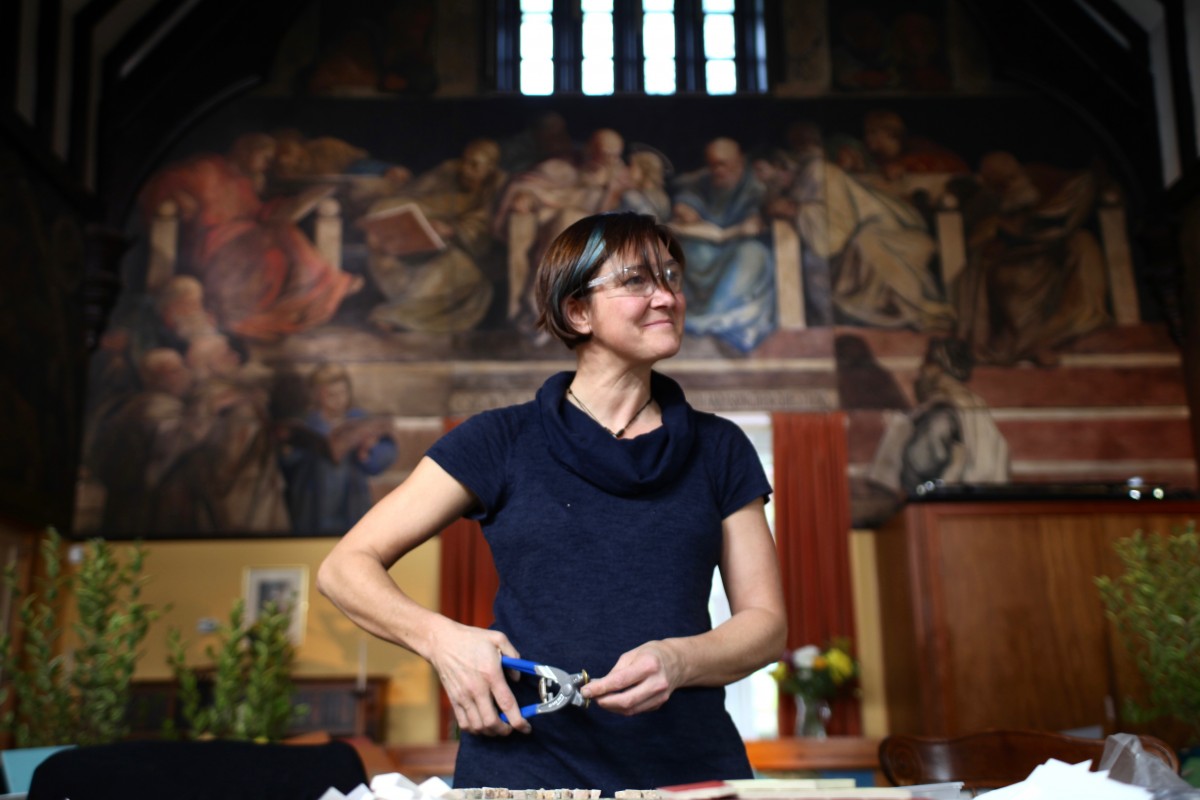 It wasn't long before crockery and tiles were loudly shattering, much to the delight of the crafters! There was a distinct feeling of satisfaction among the group as they flexed their muscles and began to snap their materials. This seems like a fantastic physical task to relieve tension or anxiety; think yogic chanting but with something sharp in your hands!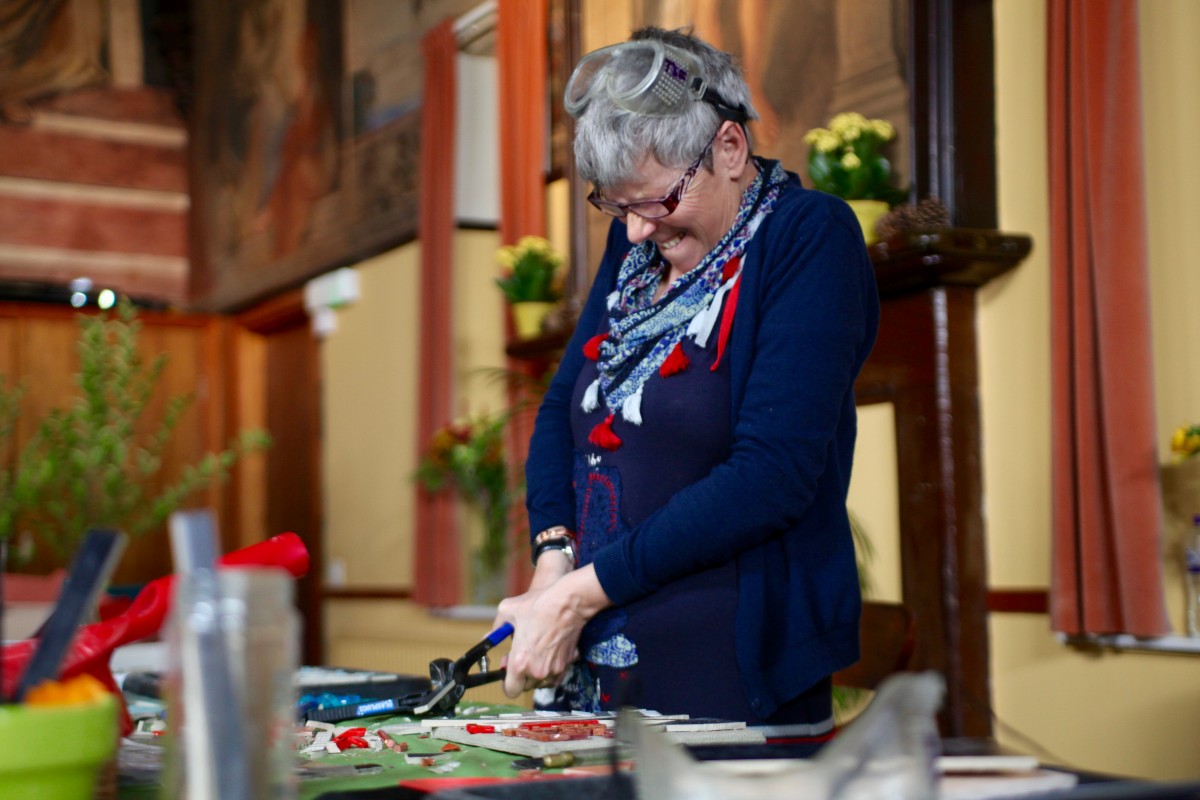 The hubbub of breaking things soon died down as the group settled and began to carefully place the coloured shapes into their plaque designs. This is where we started to see the creative ideas in the group ranging from Alison recreating the horns of her new prize ram, to Paul's depiction of Hadrian's Wall and Cheryl's homage to a Lowry painting.
Martha Kearney explained that one of the joys of mosaic is the wide range of materials that can be used "from smashed ceramics to beachcomb glass" what better inspiration to upcycle that chipped dinner plate?! Once the crafters finalised their plaque plans, Tamara taught them to mix up quick drying cement which meant they had to swiftly fix their designs to the boards - something a few struggled with. Then the really fun part began as they moved onto grouting!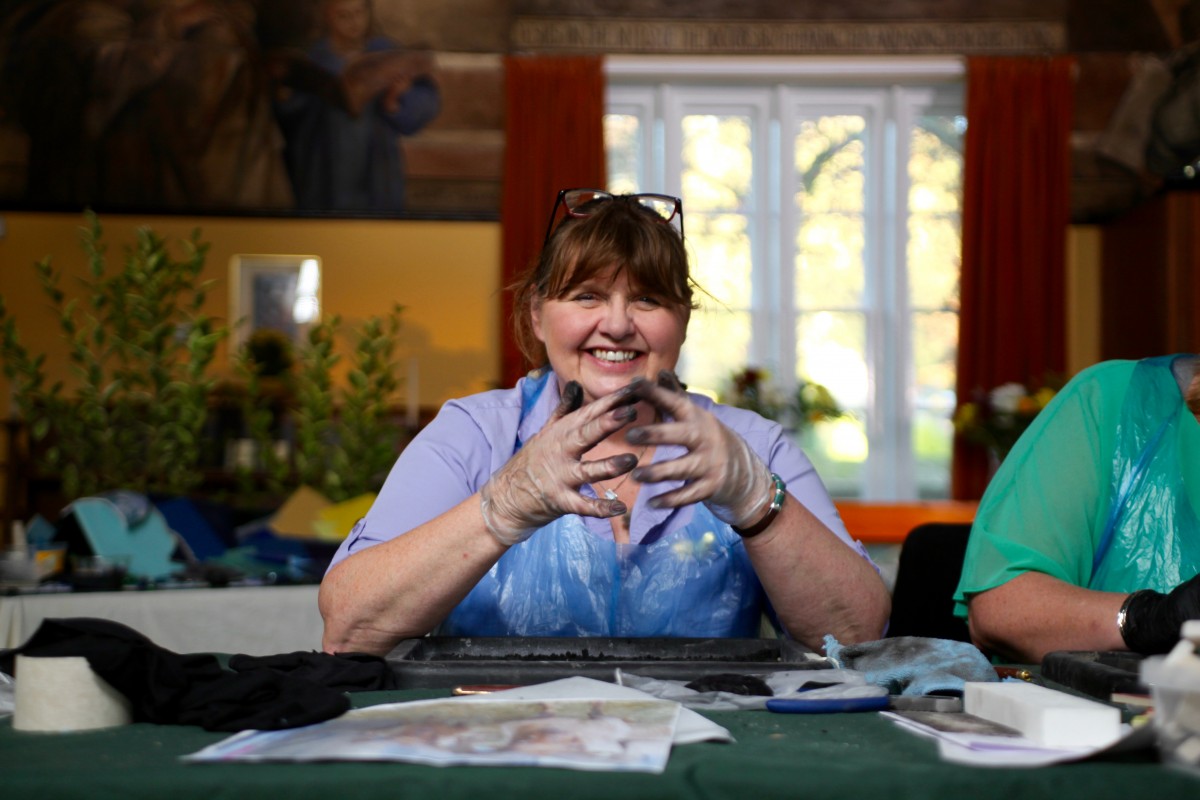 Grouting is the final stage of filling in the gaps and sealing a mosaic. It's dark, gooey and completely covers the colourful designs with a gloomy mess! Yet, with the aid of Tamara's tools to scrape off the excess and then a buffing cloth, the makers soon revealed their beautiful plaques in all their glory, and impressive they were too!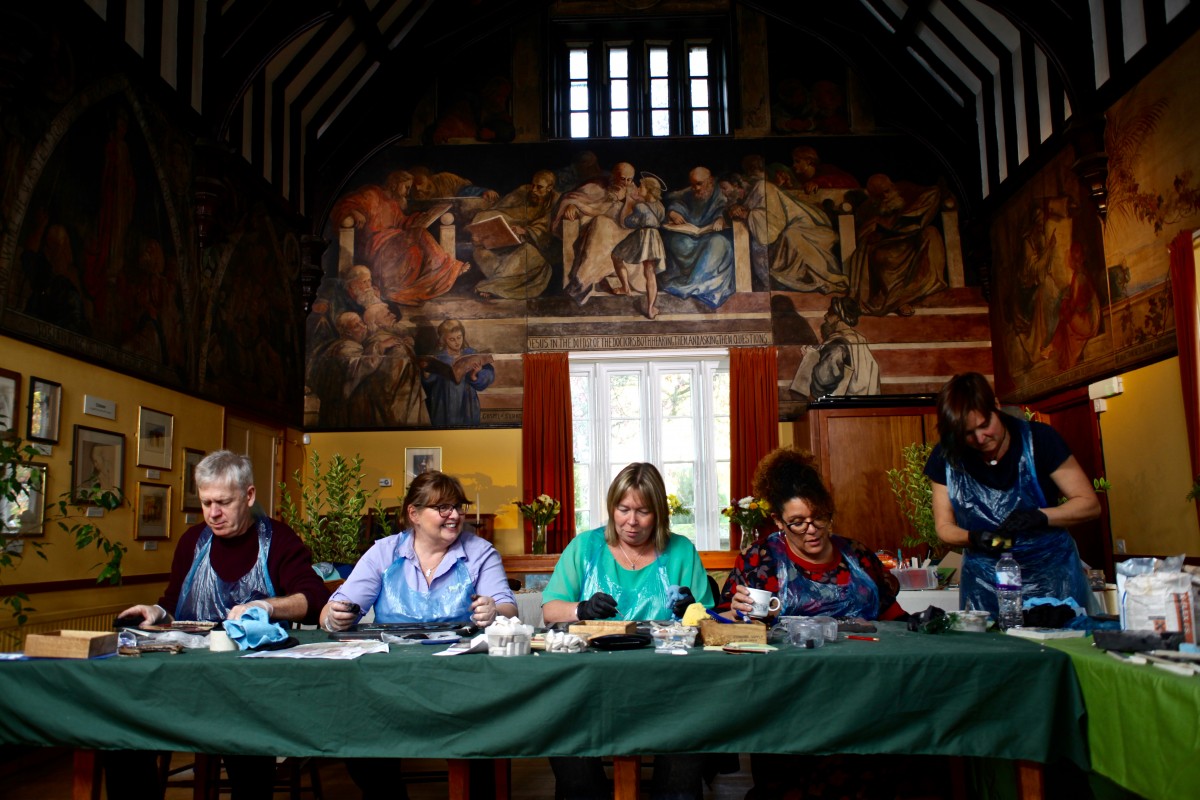 When asked about her standout moment from the day, Tamara said: "Watching the expressions of wonder as they cleaned and buffed, and saw their pieces going from the messy grouting stage to finished artwork." Indeed, this sense of wonder is palpable for viewers at home as is the sense of pride felt by the eight amateurs.
It's easy to see the appeal of mosaic from watching these crafters. If seeing this episode has given you the mosaic bug, head to our website to craft a summery mosaic gift set or some fabulous garden accessories.
Meanwhile, in East London, six students were charged with knitting a bobble hat in an afternoon. Three were complete beginners, the rest had some experience of knitting. Friends and business partners Jen and Jenny from knitting kit company Stitch and Story were on hand to show these knitters how it's done.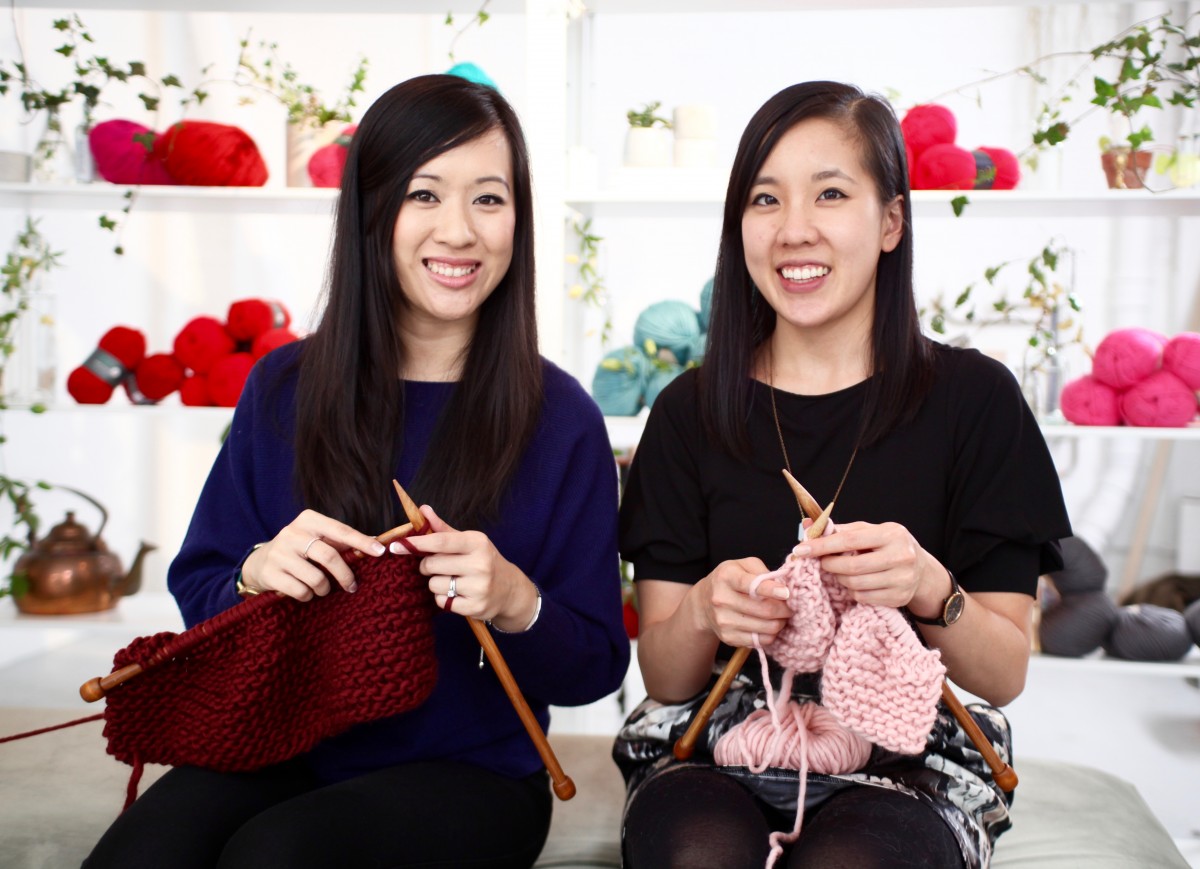 After starting with casting on, the group then moved on to learn knit stitch and soon got the hang of it, each knitting an impressive tension square and a sense of pride filled the room!
Before long, the group were steaming ahead but it didn't take too much time before some ran into trouble! Anyone who's ever learnt to knit will empathise with Steve whose yarn was pulled so tight that he struggled to get his needle into his next row of stitches! He soon relaxed his technique though and once he'd got his tension under control he says, "I can see why when you've got the hang of it it can be a very relaxing thing to do" Meanwhile, undertaker Luke who struggled to get a hang of things for part of the afternoon, described himself as entering into a zen-like "complete yarn trance" once he'd got into the rhythm of his knit.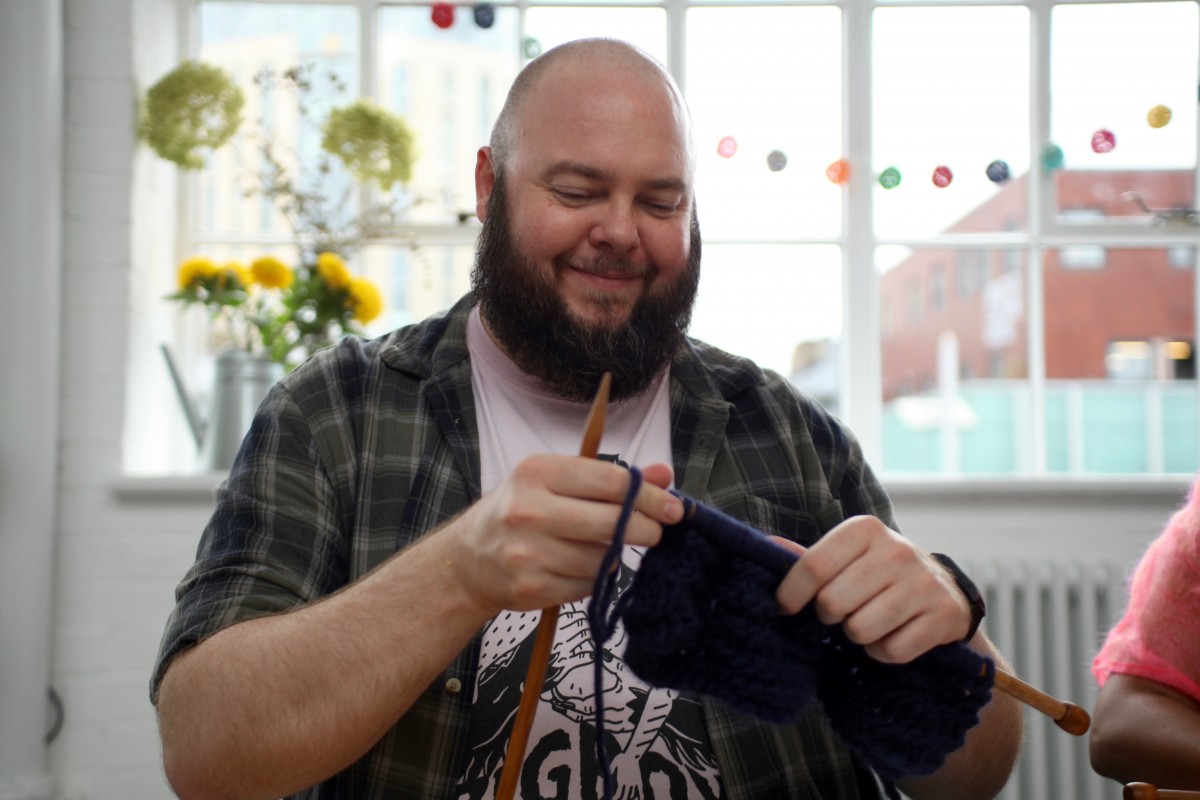 Graphic designer Biba Hunjan experienced the common beginner knitter frustration of dropping stitches. Luckily the knit experts were on hand to teach her a neat trick - picking up stitches using a tapestry needle! The sound of needles clicking continued and it wasn't too long before the bobble hats took shape and the group were taught to knit two together, decreasing their stitches to create the tops of their hats.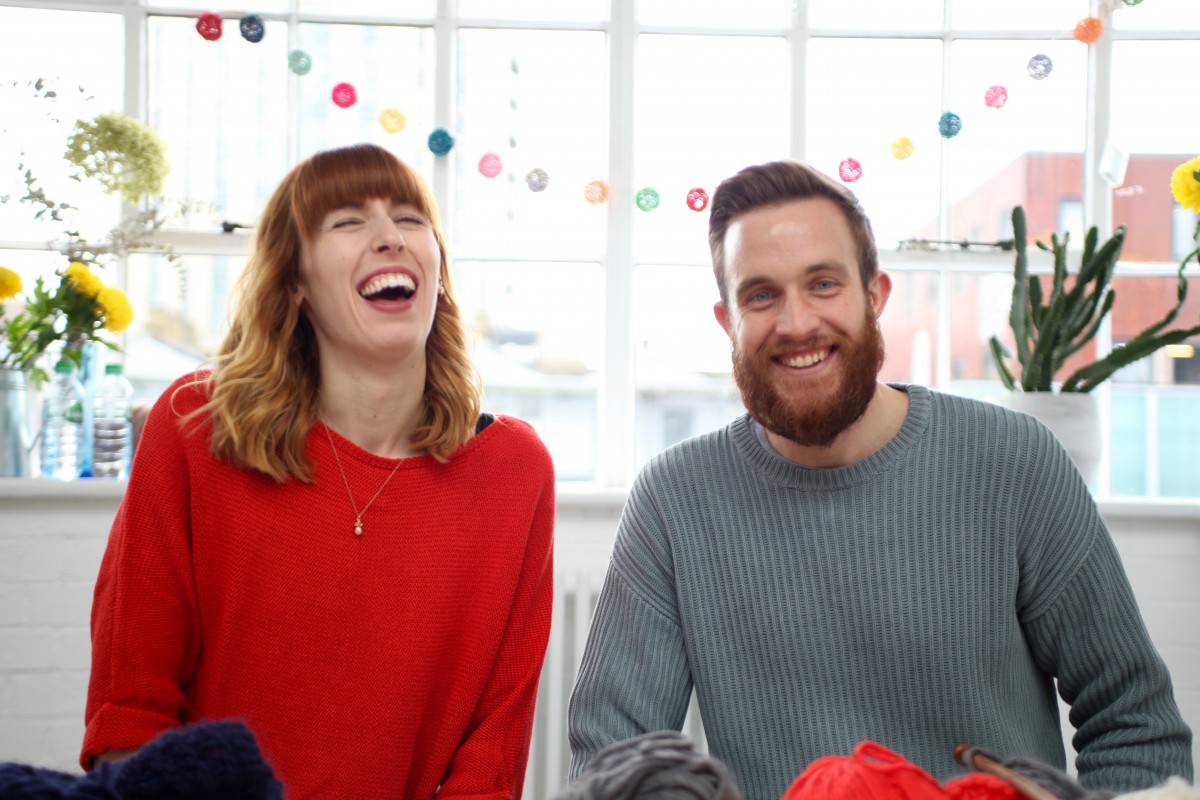 As the afternoon drew to an end, do all six complete their hats and adorn it with a pom-pom bobble? You'll have to watch and find out! What was clear though is that this group of makers thoroughly enjoyed knitting and were truly inspired to pick up some needles at home. Steve excitedly said, "I'm buzzin'! It's really good, I can't wait to do a bit more!". Kirsty who had some knitting experience already said "It's just been fab, I'm ready to go off and knit! I'm inspired, I've got all the energy going again!"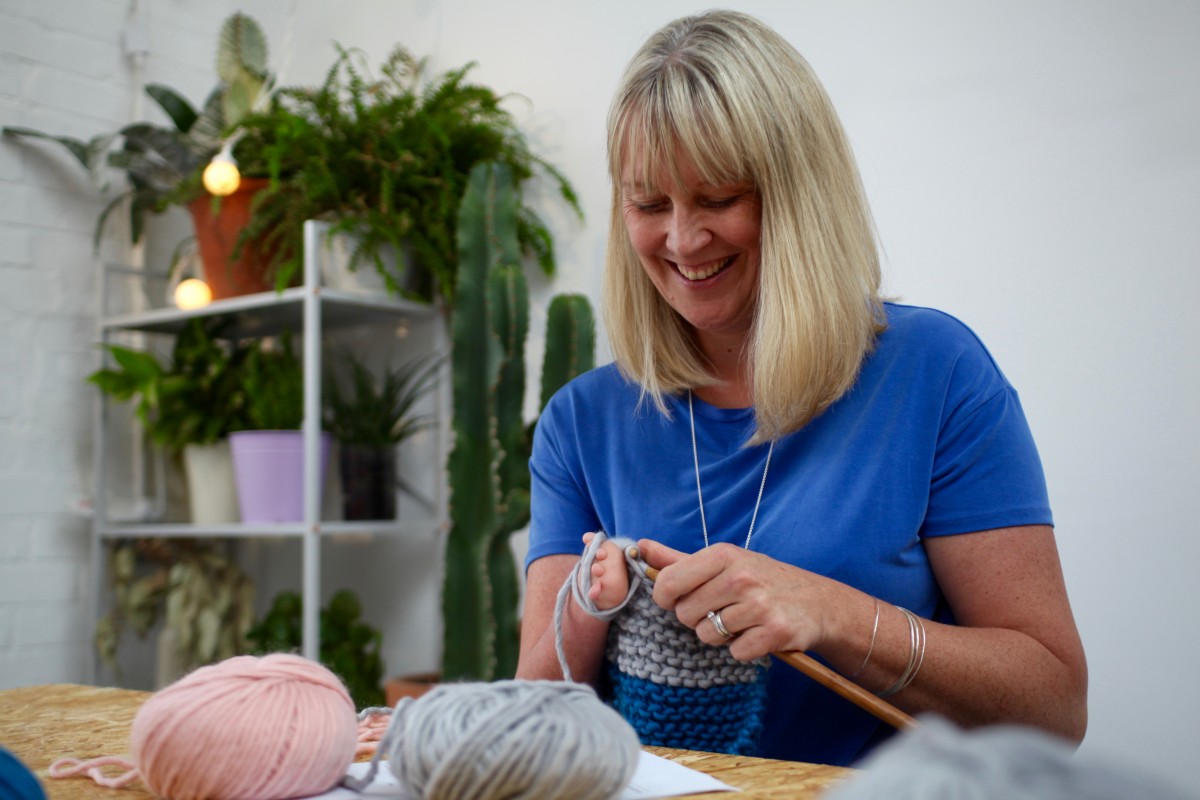 Have you been inspired? Check out these fantastic woolly hats for teens and adults, or try this fab bobble hat which is a super-easy make.
This final instalment of MAKE! Craft Britain shows the joy that can be found in creating unique objects from basic materials such as ceramics or wool and we only wish there were more to come! Each programme is a testament to the relaxation that comes with crafting as makers became absorbed with their creations and frequently spoke of a sense of calm and satisfaction.
We have simply loved watching this joyful celebration of all things handmade. Following ordinary people learning new creative skills shows that anyone can craft something beautiful!
Busymitts
Share your makes