Make sure your crafty creations are on-trend by decorating your handiwork with a metallic Posca pen.
What you need...
Posca Pens: PC-5m Metallic 8-piece set, PC-8K white

Wrapping paper, white

MDF Coasters

China cup and saucer

Varnish
instructions
Decorate Coasters - Apply a layer of white using the 8K pen and leave to dry. In pencil, sketch your chosen initial in the centre of the shape. Draw in the flowers freehand around the letter. Alternatively, refer to the template and transfer the floral designs around the shape to create your own design. Work over the traced and pencil design with the pen, filling as you go along. Apply a layer of varnish to finish.

Jazz Up Plain China - 1 Select pens in co-ordinating colours - we used shades of pink, purple, bronze and silver. Build your design by applying pen dots of one colour on the cup and saucer.

2 To create interest, cluster the dots at the bottom of the cup and centre of the saucer, decreasing the dots as you move up the cup and out to the saucer's edge. Wait for the first colour to dry before adding another shade.

3 Repeat with the third and fourth colour, making sure the previous layer is dry before applying the next. Bake the china in an oven at 160°C for 45 minutes. Leave to cool, then varnish to seal the paintwork.

Make Your Own Gift Wrap - Trace and transfer the tile design onto a plain gift box. Move the tile as you cover the box so it creates an overall pattern. Apply the pens over the traced design, filling in areas as you go along. Leave the first layer to dry, then add dots, highlights and lines as shown.

Create an Art Deco Style Rose - Draw three little dashes to create a floral centre. Add larger marks around the three dashes Make another layer of strokes. Build the flower up with more dashes until you are happy with the size. Fill out and shape each mark to create a softer shape. Add leaves.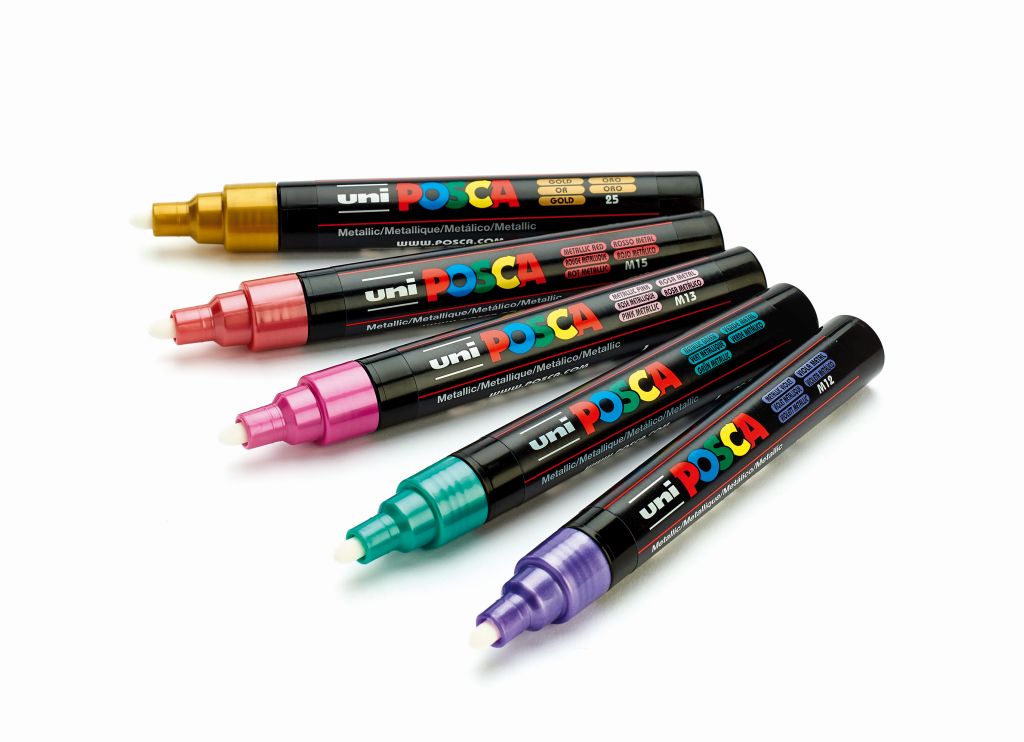 Add a touch of glitz to your craft projects with a Posca Metallic 8-piece pen set, www.cultpens.com/posca

Projects you may also like...

Busymitts
Share your makes