Decorate stationery and gift wrap with your own unique artwork using Posca pens.
What you need...
Posca Pens: PC-3m Sparkling 8-piece set

Card blank

Wrapping paper, white

Jam jars

Scissors

Pencil

Tracing paper

Clear varnish
instructions
Design a Christmas Greeting - 1 Take a square card. In pencil, sketch in a faint circle in the middle of the greeting. Using the shape as your guide, draw a set of simple curved lines adding leaves and flowers as shown. You can also use a template to transfer the central wreath design.

2 Using the pens, work over the traced or pencil design, filling in areas as you go along and applying dots as berries. Hand write the Merry Christmas message in the middle as pictured.

Make Illustrated Gift Wrap - 1 Use white paper to cover your gift. As with the card, use a pencil to draw a faint circle on the face of the gift. Transfer your favourite set of branch and floral motifs on to the gift, then add text as shown.

2 With the green sparkle pen, draw a squiggly line around the sides of the package. Add branches and leaves to this line. Apply dots as berries.

Give Jam-Jars a Festive Feel - Copy or trace the floral or simple branch designs onto scrap paper and fix under the glass. Using the pens follow the design, applying dots onto the glass for berries. Move the paper guide along as you go until you are happy with the result. To seal the glassware, pop into an oven at 160ºC for 45 minutes. Leave to cool, then varnish.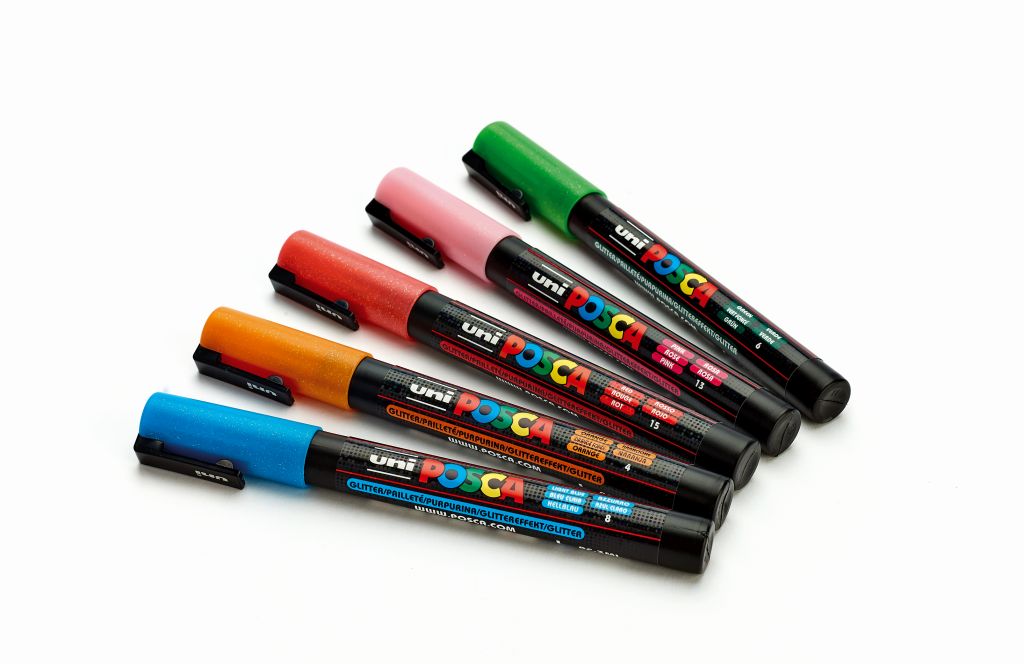 With eight gorgeous jewel-like colours to choose from, this sparkling pen set is ideal for Christmas crafting and beyond. www.cultpens.com/posca

Projects you may also like...

Busymitts
Share your makes