Tagged Content:
Articles tagged with "table"
Tags:
Show off your crafting skills this Christmas and make guests feel extra special even before they arrive. This simple-to-make set of puddingthemed table decorations and matching invitations will do just that! They'll love their cute little table names and with this stand-up menu card, they will know exactly what you are serving as well. No table would be complete without napkin holders to spruce up each setting. The great thing about this set is that the invites are versatile and could be used as greeting cards too.
Download now »
Tags:
Impress your guests this party season with our fabulously glitzy Christmas table decorations
If you own a die-cutting machine then you will find our dazzling festive firs really easy to make. This crafty gizmo has the facility to create effortlessly stylish, seasonal decorations, yet with the added bonus of delivering a professional finish every time. All you need to get started on this project is card - we chose pink and lime green and a pot or two of your favourite glitter, the really fine stuff is the best. A word of advice though, this sparkle dust has a habit of ending up on every surface including hands, face and clothes… you have been warned!
Download now »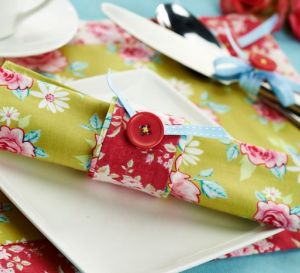 Sew a gorgeous floral table setting to see you through spring and summer using Tilda fabrics
View project »