Tagged Content:
Articles tagged with "plaiting"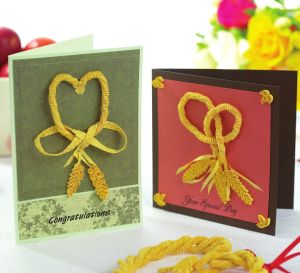 Use fun quilling and plaiting techniques to create cards that are full of charm
In the olden days it was the custom for a country lad to take an evening walk with his lass through the fields during early autumn. As a gesture, he would weave and plait pieces of straw together to make a buttonhole embellishment, and if the couple were courting, the girl would wear it over her heart as a token of her love. Inspired by this delightful piece of folklore, and traditional techniques used by straw weavers and corn dolly makers, these wonderful designs are made entirely from paper. Combined with quilled wheat ears, these projects are perfect for seasonal greetings and gifts. Plus, the tools and materials are inexpensive, giving this idea lots of thrifty craft points as well!
Download now »