Designer: Cathie Shuttleworth
Create groovy decs for the festive table with Posca pens
What you need...
uni-Posca Pens: silver, PC-1MR, ultra fine; red, green, white, PC-3M, bullet shaped 0.9-1.3mm; black, PC-5M, bullet shaped 1.8-2.5mm
Paper, green, red; patterned, floral
Blanks, wood: cube, hearts, wheels
Buttons, green
Gems, self-adhesive, green
Wooden dowel
Adhesives
instructions
centerpiece - 1 Using a pencil lightlydraw a pattern of swirls in free hand around a wooden cube. Use the white pen to in-fill colour between the swirls. Follow on with red, then silver and finish with black, making sure all the wood is covered.

2 Trim the dowel to size and colour with white pen. Draw red, green and black bands around the stick. Colour in a wooden wheel blank. Fix the dowel into the middle of the wheel with glue, then attach to the top of your decorated cube.

3 Cut out flowers from black and white floral paper. Use the fine pens to decorate the petals and add detail. Top the flowers with green buttons and attach to the wooden dowel with glue. Cut three holly leaves from paper and add detail with the black, red and white pens. Stick the holly behind the flowers.


menu card - 1 Create a large red card blank. Fix black and white striped paper along the bottom and with a ruler add lines of colour. On black and white floral paper, cut around the flowers to give a shaped top, then above the stripes. Use a fine tip green and red pen to add colour, then top the flowers with buttons.

2 Print a message onto green paper, leaving a double space for a missing letter. Add a button in place of the letter and glue to the face of the card. Type a Christmas menu and glue to the inside of the card.
Colour a wooden wheels and heart blanks with red, white and black pens.

place settings - To make a stand, glue the point of each heart and fix in the centre of the wheel. Top with flowers cut from black and white floral paper. Add silver gems to the centre. Print out a name on green paper and glue behind the heart.

Design Detail - Use the wide white pen to colour the face of a wooden heart blank. Use a fine black and red pen to edge the heart and draw stitch marks in silver. Now add your chosen message
uni-Posca pens are available from branches of Hobbycraft, or online from www.uniball.co.uk and www.cultpens.com
Wooden blanks, Crafts Shapes, www.craftshapes.co.uk
Projects you may also like...
November Issue
on sale now!
Quilling and embossing kit
Subscribe today! for your free Kaisercraft Advent Calendar kit!
subscribe here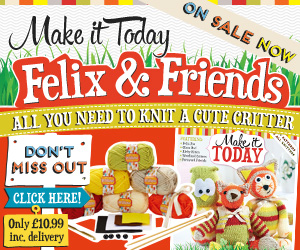 Crafts Beautiful Edition
Get all of your crafting essentials sent straight to your inbox!
Busymitts
Share your makes
Create groovy decs for the festive table with Posca pens
What you need...
uni-Posca Pens: silver, PC-1MR, ultra fine; red, green, white, PC-3M, bullet shaped 0.9-1.3mm; black, PC-5M, bullet shaped 1.8-2.5mm
Paper, green, red; patterned, floral
Blanks, wood: cube, hearts, wheels
Buttons, green
Gems, self-adhesive, green
Wooden dowel
Adhesives
instructions
centerpiece - 1 Using a pencil lightlydraw a pattern of swirls in free hand around a wooden cube. Use the white pen to in-fill colour between the swirls. Follow on with red, then silver and finish with black, making sure all the wood is covered.

2 Trim the dowel to size and colour with white pen. Draw red, green and black bands around the stick. Colour in a wooden wheel blank. Fix the dowel into the middle of the wheel with glue, then attach to the top of your decorated cube.

3 Cut out flowers from black and white floral paper. Use the fine pens to decorate the petals and add detail. Top the flowers with green buttons and attach to the wooden dowel with glue. Cut three holly leaves from paper and add detail with the black, red and white pens. Stick the holly behind the flowers.


menu card - 1 Create a large red card blank. Fix black and white striped paper along the bottom and with a ruler add lines of colour. On black and white floral paper, cut around the flowers to give a shaped top, then above the stripes. Use a fine tip green and red pen to add colour, then top the flowers with buttons.

2 Print a message onto green paper, leaving a double space for a missing letter. Add a button in place of the letter and glue to the face of the card. Type a Christmas menu and glue to the inside of the card.
Colour a wooden wheels and heart blanks with red, white and black pens.

place settings - To make a stand, glue the point of each heart and fix in the centre of the wheel. Top with flowers cut from black and white floral paper. Add silver gems to the centre. Print out a name on green paper and glue behind the heart.

Design Detail - Use the wide white pen to colour the face of a wooden heart blank. Use a fine black and red pen to edge the heart and draw stitch marks in silver. Now add your chosen message
uni-Posca pens are available from branches of Hobbycraft, or online from www.uniball.co.uk and www.cultpens.com
Wooden blanks, Crafts Shapes, www.craftshapes.co.uk