Blog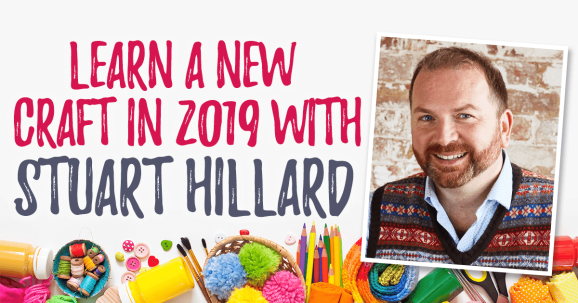 Follow in the footsteps of Sewing Bee's Stuart Hillard and pick up a brand-new craft for 2019!
As 2018 comes to a close and we start a brand new year, the vast majority of us will be thinking of ways to make sure that 2019 is better, brighter, bolder, healthier and happier. It's human nature to strive to improve, and right the wrongs of the past. We all know about plans to quit smoking, eat healthier, lose weight, but by the end of January, most of us have tried and failed. So many New Year's resolutions focus on giving up something bad but I'm much keener on starting something good – beginning a new craft or reinvigorating an old one seems like a pretty good idea to me. Learning a new skill is a great way to fill dark evenings, boost self-esteem and improve cognitive abilities. If you enjoy the social aspect of crafting, trying something new is a great way to meet and make new friends. So, what are the most on-trend crafts to try this new year?
UNRAVEL YOUR SKILLS
Knitting is one of those crafts that goes through tremendous peaks and troughs of popularity, but if your abiding memories of handknits were those scratchy, ill-fitting sweaters that your auntie made, then take heart, as knitting has moved on apace and is enjoying a fabulous renaissance! Gloriously luxurious yarns in gorgeous linen, merino, silk, alpaca and cashmere are a world away from those bad memories and the trend for single ball projects like socks, shawls and scarves means that it's more affordable and faster to finish.
HOOKS AT THE READY
If you're after a yarn craft that's a little faster and easier to pick up and put down, then maybe crochet is for you. The benefit of having only one stitch on the hook makes it much easier to keep track of when life is hurtling along at 100 miles per hour. TOFT make some fantastic crochet doll and animal kits, and once you've mastered the basic shape, they are easy to adapt and personalise. If you've never tried knitting or crochet, there are a plethora of magazines, books and tutorials to guide you. I particularly like to use YouTube because although I've been knitting for over 40 years, there are some techniques I've never tried or are used so infrequently I've forgotten them.
SAY IT WITH WRITING
Hand lettering and calligraphy have been steadily growing in popularity over the last two years. You could say that it's a backlash against computer printers which threatened to wipe out beautiful handwriting or the availability of amazing pens and inspiring artists, but hand lettering is definitely making a comeback! Inspirational quotes to frame and display, cardmaking, menus for a special occasion or bullet journalling are great projects to try and there are plenty of free sheets and tutorials online to get you started.
GO BACK TO BASICS
Papercrafting is still a crafter's favourite pastime, and it goes way beyond cardmaking. Have a go at 3-D construction with Tattered Lace's Cutting Craftorium or try quilling – the art of rolling and shaping very thin strips of coloured paper to create art. The paper comes precut into narrow bands and the skills are easy to learn and very versatile. Finally, amongst all of these other exciting crafts, sewing is most definitely here to stay! With a new series of The Great British Sewing Bee set to air in 2019, we will once again be getting out our scissors, pins, pressing hams and elastic, and fashioning everything from quilts and bags to a whole new wardrobe! Can you tell that I'm excited?
If you missed learning any of these skills at school, rest assured as there are plenty of workshops, classes and courses that you can attend. Don't ever be afraid of signing up to an absolute beginner's class, even if you've tried a hobby in the past. These are a great option for the new crafter, or slightly rusty, amongst us to brush up on those all-important skills. A good teacher will always recognise if you need more of a challenge and be on hand to help you reach your potential. Make 2019 your craftiest yet and enjoy trying something new!
Recommended Posts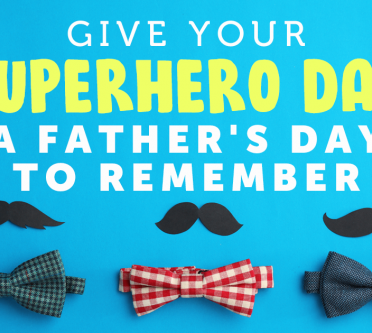 Give Your Superhero Dad a Father's Day to Remember with the Help of Sewing Bee's Stuart Hillard
Busymitts
Share your makes