Tagged Content:
Articles tagged with "watercolour"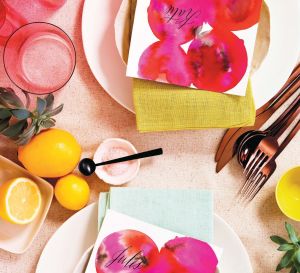 Tags:
Watercolour place cards are a fun and unique way to add vibrant colour to a dinner party or other gathering. Since watercolours are meant to be imperfect and fluid, even if you have never painted before, the results will amaze your guests — each one is a work of art that they can take home.
This extract is reprinted from The Gift of Calligraphy by Maybelle Imasa-Stukuls, published by Watson-Guptill, RRP £21.99, available online and from all good bookshops.
Download now »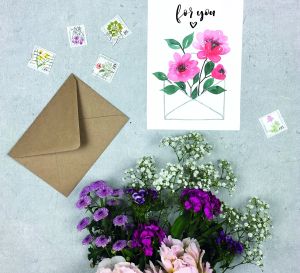 Tags:
Who still writes and sends letters today? Hardly anyone, sadly… and yet it's so nice to receive a letter from a loved one. There is so much more thought and effort in a letter than in an email or WhatsApp message. So if we're not sending letters, let's at least paint a few. In this project from Lettering With Love, the focus is on the illustration. The motif fits perfectly on A5 (5¾ x 8¼in) watercolour paper. Use a fairly smooth paper though – cold-pressed is ideal – so your brush pen doesn't suffer too much. All you need for the lettering is your favourite brush pen; for the illustration, we recommend a size 8 paint brush. As always, do the sketch using an HB pencil, a ruler and an eraser. You will also need a pot of water and a small pot or dish for mixing.
Extract taken from Lettering With Love by Sue Hiepler & Yasmin Reddig, £12.99, searchpress.com
Buy your copy here:
Download now »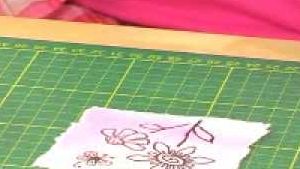 Tags:
Corinne Bradd demonstrates how to add vibrant effects to simple stamped images using brushmarkers and a paintbrush.
Watch video »