Blog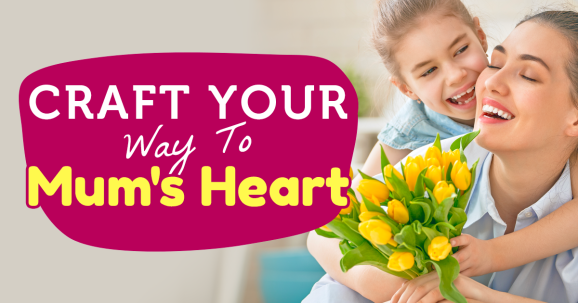 Sewing Bee's Stuart Hillard gives his mum the recognition she deserves and encourages you to do the same.
Mother's Day is celebrated on the 31st March and it's really a religious rather than a secular holiday, falling every year on the fourth Sunday of Lent. Traditionally, this special day had little to do with one's biological mother, rather it was the day when all Christians were expected to visit their 'Mother church' – the largest church or cathedral in their area – rather than the 'Daughter church' they visited every other Sunday. This naturally led to family reunions and the opportunity for children who might have moved away for work to see their parents. Girls, in particular those working in service, were able to return to their family homes and visit their mothers, causing the tradition that we recognise today to become a formal holiday and a celebration of motherhood.
ONE IN A MILLION…
Talking about Mother's Day set me off thinking about my own mum and the reasons I'm so very grateful to her and the things she's taught me. It was this wonderful lady who, when I was just three, taught me to hold knitting needles in my podgy fingers and make a very loose and loopy garter stitch. Money was tight growing up and we didn't have a well-stocked craft stash as I do now but she always managed to find the bits and pieces I needed to make whatever I had planned. She'd unpick old garments and unravel knitting so that I could have yarn to work with, she made do with what was available and taught me to do the same. Mum showed me how to make pom-poms and braids, and she passed on her love of growing things and helped me to create miniature gardens with seedlings and cuttings from the backyard. She also taught me to cook, everything from little cakes and jam tarts to boiling potatoes and proper gravy, and every time I put a meal on the table I'm reminded that it was mum who inspired that love of home cooking and the ability to feed myself and others so well.
LIFE LESSONS…
Mum taught me how to hold a conversation, the value of good table manners and the importance of not speaking with my mouth full. She taught me how to say important things like 'thank you' and 'sorry', and she always believed that something would turn up no matter what the challenge might be. Regardless of what life has thrown my way, the things mum taught me have stood me in good stead and Mother's Day is a great opportunity to show her how much she still means to me.
HANDMADE HEART…
Making a gift for Mother's Day is a great way to show your mum how important she is, but aren't the very best gifts the ones that are really personal? If you're a papercrafter, then scrapbook pages, photograph montages, framed prints, a keepsake box or even an old baby picture in a personalised frame are great presents that take just a little time but absolutely recognise the bond between a mother and her children. If you've gotten into the current trend for brush lettering and calligraphy, a framed list of the top ten things mum taught you combines your love of craft with your admiration for family. Not every lesson my mum taught me was something fun like knitting or sewing but those lessons were valuable nonetheless. It's the perfect way to acknowledge that some of the hardest battles were for a very good reason!
PRECIOUS MOMENTS…
Another great gift is to spend quality time together through crafting; whether that's by making something special, a joint project or taking a class that you'll both enjoy. Perhaps your mum tried to teach you something years ago and gave it up, so maybe now would be a better time. I know that my mum still wants me to need her and indeed I do, but sometimes in my grown-up life, I forget that she still has good advice to give and will always have my back and best interests at heart. If your mum isn't around to share Mother's Day with, spend time with the women in your life who fill that role and show them how much you care.
Busymitts
Share your makes