Blog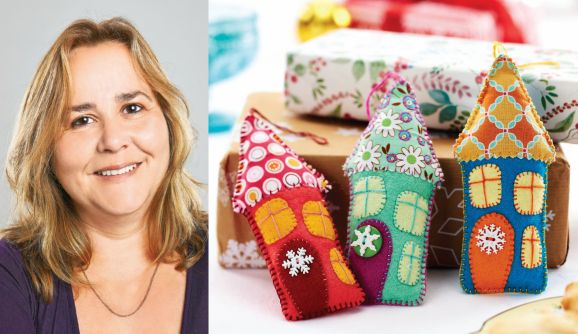 Most of us have used felt at some point in our lives. For me it was the fabric of choice when making Sindy doll accessories because it's so forgiving. It never frays, can be glued easily if you're really lazy (which you are aged eight) and disguises the most shoddy of stitching. I've probably still got some scraps from felt sheets I had as a child. They were about 20cm square, came in bright primary colours and had very little wool content, but they were so cheap.
Nowadays I'm a bit pickier and choose felt sheets with at least 40% wool in subtler shades. Subsequently they're much more expensive, even accounting for inflation, but they're so much nicer to work with. As with everything craft-related I have a tendency to hoard… this can't come as any surprise! I've a big stacking box stuffed with felt in every possible colour and I still buy more because it's 'always useful'. It's so versatile – you could probably make a model of anything given enough time, patience and felt.
Corinne x
Felt Houses
As I've never got enough time or patience, I've made felt houses to use as cute Christmas decorations this year. They'd also make beautiful bunting for a child's room or a fob for your keys if you scale them down.
1 Trace around our templates onto felt. Cut a zig zag edge around a fabric square with pinking shears, pin to the roof of one house shape and trim to the same shape. Over-sew the bottom edge of the roof to the felt with three strands of embroidery thread.
2 Pin the two houses together and blanket stitch around the sloping edges of the roof to join. Fold up the back piece and pin to the roof.
3 Cut out door and window pieces from felt and pin to the front. Fix down with embroidery thread using over-sew stitches. Add a button to the front door. Un-pin the back of the house and continue sewing the two shapes together with blanket stitch. Leave a small gap in the side of the house and stuff lightly with fibre filling before closing up the gap. Add a loop of thread to the top for hanging.
If you love Corinne's creativity with fabric and felt, you'll also love her delightful stitched dog project – find it here!
Busymitts
Share your makes