Blog
Die-cutting is one of our favourite techniques, there's something so satisfying about running a die through the machine and seeing the outcome on the other side. Although we all like to think that we're masters of our craft, there are still questions left to be asked in order for you to become the best you can be and more importantly, make the most of your machine. We've pooled together some of the most frequently asked How To questions and provided you with the answers! Whether you use the Brother ScanNcut, Sizzix Big Shot, Cricut or Crafter's Companion Gemini machines, you'll find our answers incredibly helpful. Now, let's get started!
1 How can I make the most of the waste shapes that are left after I have finished die-cutting?
Die-cut leftovers don't need to be wasteful! If the pieces are large enough to still cut into, perhaps you could use smaller dies to make extra pieces for decoupage or decoration. If you have multiples of the same shape, devise a pattern by arranging them in the right way and create a background effect similar to embossing. Don't forget about the negative left in the card that you've cut from – it makes the perfect stencil for stamping or colouring!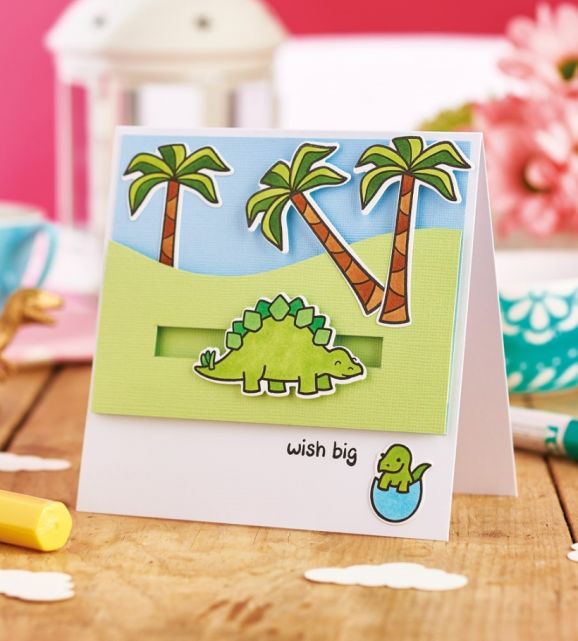 PaperCrafter Magazine
When aligning each layer, use the guide on the packaging to determine which areas of the image to match up and make sure you get your eyes directly over the stamp so you can ensure accurate placement. In addition, we recommend using a stamp positioner – being able to stamp multiple copies of your card, or equally stamping a single layer a couple of times to get the best impression, will help in creating a beautifully layered image.
3 I'm a die-cutting newbie, what machine shall I get?
Before you get started, the first thing to consider is the style of projects you want to make; this will determine the size of the machine you need to buy. If you want to make shaped cards or boxes – you can use the dies to cut the base for you – then you will need an A4 die-cutting machine. But if you know for sure that you will only want to cut topper designs and sentiments, then you could invest in a smaller machine and get more dies with the money you've saved. There are lots of aspects to think about as a machine is one of the most considered craft purchases you will make.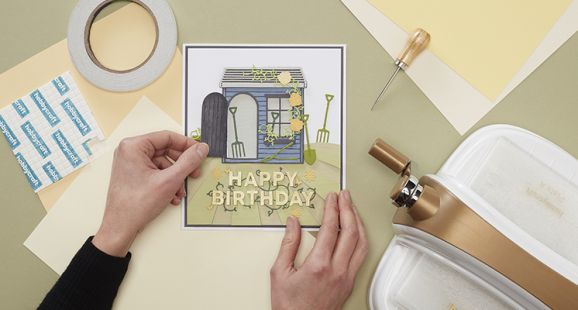 Hobbycraft
It's so important to pop out the fiddly bits that have been leftover in the die each time. If you don't clear it out, the die won't be able to cut as deep when you use it next and your design will be affected. It may also be necessary to run the motif through your machine more than once. Rotate it for even pressure across all areas of the die and place your dies towards the outer edge of the plates, not the centre. This is where the pressure on the machine rollers machine is at its greatest.
5 How do I know which die to buy? There seem to be so many on the market!
When selecting dies for purchase, try to envision more uses than just the actual shape of the die. Rectangles can be easily cut into squares or even be made into borders to give you more versatility for your money. Store your dies on magnetic sheets to ensure that they are kept together and not lost. Putting all your dies away when you've finished means you'll always know the sets are intact and ready to go.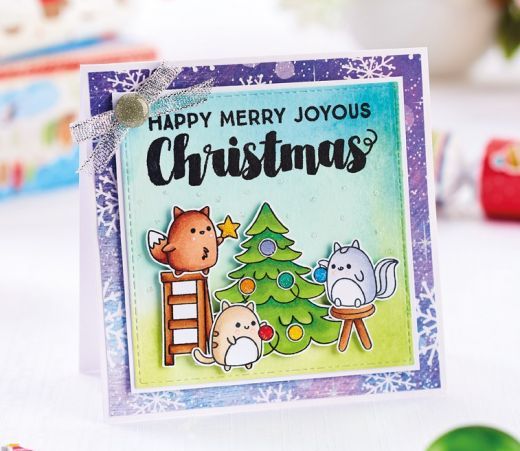 Crafts Beautiful
Use cutting dies to create magical settings for your greetings! Simply die-cut the elements and add them to plain or patterned card. When creating scenes with a lot of motifs, arrange all the pieces before sticking them down. Place double-sided tape on the back of the cardstock from which you're die-cutting. Keep the liner on, then run the dies and card through the machine. When you've removed the cut pieces, the tape on the back turns them into stickers which you can apply to your scene. This is great for both small and intricate dies.
7 I tend to die-cut motifs and just stick them on cards. How can I use them differently?
New technology has allowed manufacturers to create elaborate and intricate motifs at a relatively low cost that look great on their own, however it's always good to get the most out of something. Thin dies will cut through 230gsm card but will struggle with something thicker. You can easily bulk up the thickness of a cut-out by making multiples and stacking them together. Keep it pressed under a box while the glue dries to create 3-D elements. Try cutting shapes from craft foam or a polystyrene sheet. These can then be mounted on an acrylic block and used as a stamp for printing backgrounds or fabric. Dies can also be used successfully as stencils if cut from a good quality card or thin acetate.
Busymitts
Share your makes