Blog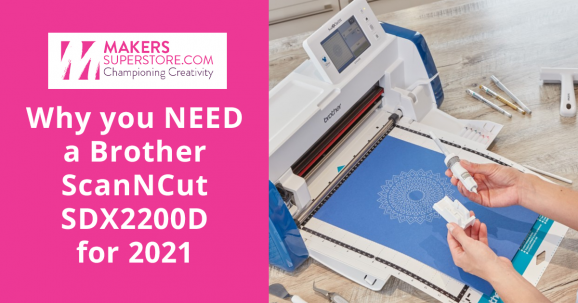 *ADVERTORIAL*
Are you ready to make 2021 your most creative year yet? The SDX2200D is Brother's most precise, advanced and feature-driven edition yet. Straight out of the box, with no extra hardware or software required, the Brother ScanNCut is the only home die-cutting machine in the world with scanning capabilities. With designs, patterns and fonts numbering over 1,400, you'll be set for a year that may contain a lot of time spent indoors. But in addition to that already fantastic amount of content, you can also create your own designs.
ScanNCut tips
To create your own mini-masterpieces, the extra-large and super-intuitive 5" colour touchscreen will be your home base. Once you've whipped up your own crafty magic, simply save it to your machine's memory. From there, you can use it time and time again. When it comes to the mechanical side of things, all we need to tell you is that automatic blade depth and adjustment makes creating with materials up to 3mm thick an absolute breeze. You'll be consistently shocked at just what you can put through your Brother ScanNCut, and will quickly discover that the only limit to what you can make is your imagination.
Though if you're looking for suggestions, Makers Superstore has more than a few: foiling, embossing, calligraphy, vinyl, 3D projects, rhinestone patterns, all kinds of stamping, paper piecing… the list is endless! And that's without mentioning the abundance of Disney designs available, which is sure to ignite the imagination of crafters everywhere.
The folks at Makers Superstore understand that starting a new craft or challenging yourself with such an epic machine can be daunting, so they're here for you every step of the way. Join them for Facebook live sessions, sign up to classes on Zoom, or simply take advantage of their phenomenal customer service. In our experience, they're always happy to chat, help with any questions and give you hints and tips. Plus, the bounty of crafty videos on their YouTube page have a tendency to inspire as much as they help.
Join their community on Facebook, Youtube and Zoom for step-by-step makes, projects and video tutorials, and sign up to their newsletter to get exclusive offers and hear about the latest launches. You'll be making stunning creations in no time, mark our words!
Busymitts
Share your makes