Blog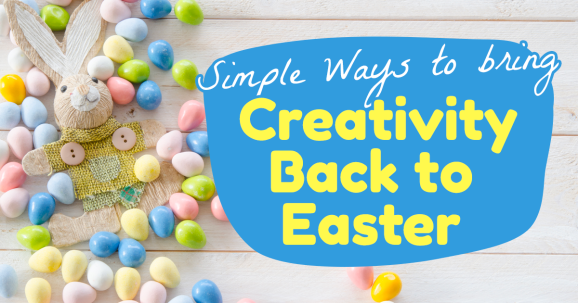 Sewing Bee's Stuart Hillard has plenty of ideas up his sleeve for bringing creativity back to Easter celebrations.
Spring has well and truly arrived, and I think it has grown to be my favourite season of all. I love being surrounded by the fresh new growth on the trees, blossom in the parks and gardens blooming with tulips. The fields are full of lambs and young calves, and there is such a sense of promise in everything. Sunnier days, better weather and the chance to get outside always make me feel brighter, and I'm inspired by the colours around me to get crafting! Spring is also the season where we celebrate Easter, which has overtaken Christmas as my favourite celebration of the year. Unlike Christmas, there's no pressure to buy gifts, get-togethers seem more informal and relaxed, and there are still plenty of wonderful traditional Easter dishes to cook and enjoy. It's also a much briefer period of celebrating, which means I can go all out for one or two days and there's always the possibility of a barbeque. All in all, every reason to throw a party!
SIMPLE, BUT EFFECTIVE
Over the past few years, I've started a number of traditions in our family. I have my Easter tree, well, it's not a tree at all really but a handful of long, twiggy branches that I've painted white and stand in a tall vase. The first year I blew and painted eggs to hang on it and now every year I make a little something else to decorate it with. Tissue paper blossoms look lovely glued to the branches or if you have a stash of brightly coloured yarns, tiny pom-poms in assorted colours look gorgeous, too. These simple crafts are the kind of thing that I loved doing as a child and they are just as appealing now. I adore encouraging children to get crafty, and pom-poms are wonderfully tactile and fun whilst being very versatile. The fact that they look like fluffy Easter chicks and adorable rabbits tails make them such an obviously good choice!
KEEP THEM BUSY
Decorating blown or hard boiled eggs is another fun Easter craft to keep the kids occupied. Craft shops tend to get egg decorating equipment in but regular paints and food dyes can work just as well. It's also become a bit of a tradition for Charlie and I to host the family, and I find the whole thing much easier when we're able to manoeuvre outside. Trestle tables in the garden get covered in white tablecloths, while fresh tulips in jam jars grouped in threes make for the easiest table decorations ever. We always have an Easter egg hunt, and even though our nieces and nephews are all grown up, the promise of almost unlimited chocolate seems to bring out the child in everyone. It also means I can forgo making dessert – if that isn't win-win, I don't know what is!
STITCHY TREATS
I always enjoy Easter sewing; last year I made little rabbit gift bags with faces embroidered on the front and floppy floral print ears sticking out the top! Creating mini bags for the egg hunt is a quick job and everyone can take them away at the end of the party. It's also generally the first outing of my newly made garden furniture cushions. I re-do them every year and they are no more complex than a cushion with a couple of ties added into the back seam. It's amazing how much fresher the furniture looks with new seat pads and they are quick and easy enough for beginners, too.
Last but not least, this Easter I will be making time for long walks. I force myself to walk during the winter because I know it's good for me, but in the spring I actually look forward to them! And walks need energy, for which I shall need chocolate eggs – life really is a cycle, isn't it?
Busymitts
Share your makes