Blog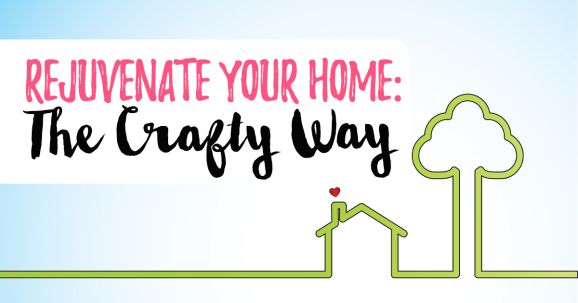 There was a time when being thrifty and frugal was something we might have done but never talked about, but here we are in 2019 and that sense of make do and mend is a hot trend and about as Instagram-worthy as it gets. Anyone who has the cash can splash it and make over a room or a whole house but these days it's more about expressing personal style and crafty skill than the size of your budget. This is great news if your home needs some love but the cupboards are bare. As crafters, we have many skills that can be applied way beyond our usual papercrafting, quilting or knitting and help us create the home we want for a price we can afford – it's just about knowing how.
STARTER SECRETS…
A sewing machine was the first thing I bought when I moved into my house and it allowed me to make the curtains, blinds, cushions and bed linens that I needed at a fraction of the cost. The vast majority of sewing is straight lines, therefore cushions and throws can be made in less than an hour and are the perfect way to inject colour and style into a drab space – most are just big rectangles of fabric so don't feel intimidated. The biggest boon to curtain making is accurate measuring and cutting out. Write your measurements down, check them twice and if you have a local community centre ask if you can cut your fabrics there. If you don't already own a sewing machine there's no need to rush out and buy one yet. Borrow from a friend or rent one, your local sewing shop may well hire machines by the day. Once you get the sewing bug, you'll already have some idea about what you need yours to do and can make a much more informed choice.
GRAB A BARGAIN…
Scour local markets for a cheap source of fabrics, or if you like designer brands but hate the price tag, have a look online for mill shops and clearance warehouses which sell end of rolls, discontinued lines and remnants for a fraction of the original cost. Keep an eye out for sample books in charity stores and interior design shops. Sewn together, these samples can make great patchwork upholstery, chair covers or cushions. When I'm being meagre with precious fabrics I always keep in mind that blinds use a fraction of the material that curtains do and adding a plain border frames the main material but also makes it go a lot further!
WOOLLY DELIGHTS…
If you're more into knitting and crochet, chances are you already own a sizeable stash of yarns. Put them to good use by making blankets and cushions. Multiple strands of different yarns create a marled effect and you can get away with much larger gauge needles this way, and bigger needles mean faster results! If you've got UFO's (unfinished objects) or makes that didn't fit or you've simply grown tired of, consider turning it into something else. Wool knitting and crochet can often be felted by
tossing into a hot wash and tumble drier. You'll get a whole new fabric to play with and the felting will mean that the raw edges won't unravel. Get the family involved making pom-poms and thread them onto a length of yarn to create fun garlands or hang them vertically in a doorway or window. If you have time and a big enough stash, you might even make a pom-pom rug, just use a piece of hessian for the backing and leave a decent tail on each as you tie it off. Use the tail and a large darning needle to sew the pom-pom securely to the hessian back, then just keep going. Favourite films and music help these jobs along so pick yours and enjoy!
ANYTHING IS POSSIBLE…
Papercrafters can use their skills to freshen a room, too. Boxes, baskets and files can be given an almost instant lift with a fresh covering of decorative paper. Make or decorate lampshades or even decoupage tired wooden or flat-pack furniture to give it a new lease of life. Sample pots of household paint can be used here or you may find a set of paints stashed and hidden at the back of your crafty cupboard – it happens! Remember, if it can be done on a mini box or tiny chest of drawers, it will probably work on the full sized version too, so embrace your skills and see the bigger picture!
Busymitts
Share your makes