Blog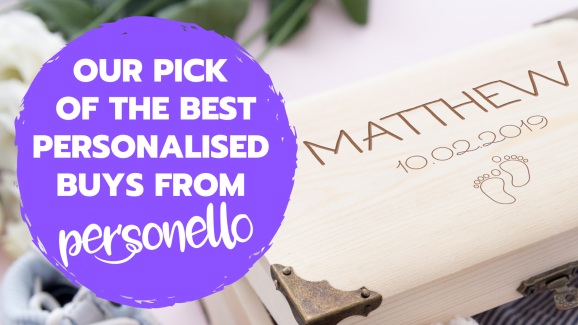 *ADVERTORIAL*
Personalisation has been a trend for so long now that we're done calling it a trend – it's here to stay. So when we came across Personello, a company that offers a mind-boggling amount of stunning customisable gifts, we were already planning birthday, anniversary, and Christmas presents months in advance! We've picked out a selection of products we've absolutely fallen in love with from Personello's website.
1 Crystal photo


Personello's crystal photo frame is made of hand-polished optical glass, and engraved with cutting-edge laser-engraving technology. It ensures your photo retains a high resolution; hugely important for doing justice to those precious memories. The picture seems to float inside the glass, alongside whichever details you choose to include; names, phrases, important dates. It's a stunning present that becomes even more beautiful when you add your own personal touch to it.
2 Embroidered baby blanket


What better way to usher in a new life than by getting an embroidered blanket made? Consisting of 100% organic cotton, Personello's baby blanket is totally eco-friendly. It comes in pink, light blue or grey shades, to ensure a wide variety of taste and preference is covered. Washable at 40° without harming the embroidery, you can let your little one play on to their heart's content without worrying.
3 Imprint slate plate


Personello's imprint slate board is a gift that pretty much guarantees an astonished reaction from whomever your recipient may be. There are so many options in terms of what you want it to be. The ultimate wedding souvenir? An unforgettable birthday present? A heartwarming gift to celebrate a parent's anniversary? The only limit is your imagination when it comes to this jaw-dropping personalised slate plate.
4 Engraved sweet jar


This engraved cookie jar doesn't have to store cookies, but you might well want it to store something sweet. Gifting a personalised present to someone is always better when it's filled with goodies! Naturally, you can fill it with whatever you think your loved one will enjoy best. Why not think outside the box by making it an appreciation jar? Choosing between different engraving templates, the personalised message could read 'Why we love you', and could be filled with little notes of love, or even cherished memories.
5 Engraved treasure box


The perfect present to store important memories in. Sturdily made with a gorgeous wooden finish, this stunning treasure box can be customised to mark any occasion. And then, it's either up to you or your recipient to fill it with objects and mementos to match.
Find the rest of Personello's wonderful gift range here.
Busymitts
Share your makes