Blog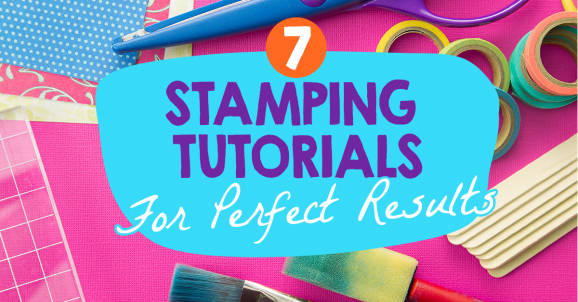 If there's a technique that all cardmakers adore, it would have to be stamping! There's something so captivating about pressing a design into an ink-pad and revealing the outline which can then be coloured in a unique way. If you're feeling a little adventurous today (we certainly are), we've got seven step-by-step tutorials that will truly up your stamping game and open your crafty mind to new ways of using the stamps in your stash. Ready, get set, STAMP!
1 Stamped Decoupage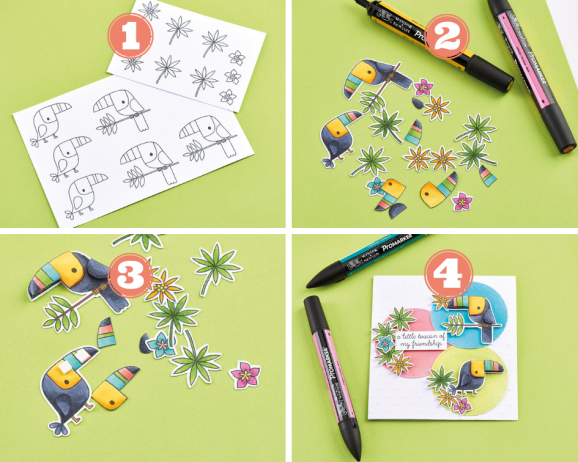 Decoupage doesn't have to be complicated, in fact, it's one of the easiest ways to create cards with a difference. Using the sweetest stamps from her stash, Kitty Frampton has cut, coloured and layered them to whip up a trio of standout summertime greetings.
1 Stamp the images onto smooth, white stamping card using Memento Tuxedo Black ink.
2 Colour in each of the images with alcohol pens and cut out individually
3 Build up the layers of the toucans, starting with the largest image and attaching each size in order with foam pads.
4 Assemble the card and attach the decoupage toucans onto it using foam pads.
2 Colour Master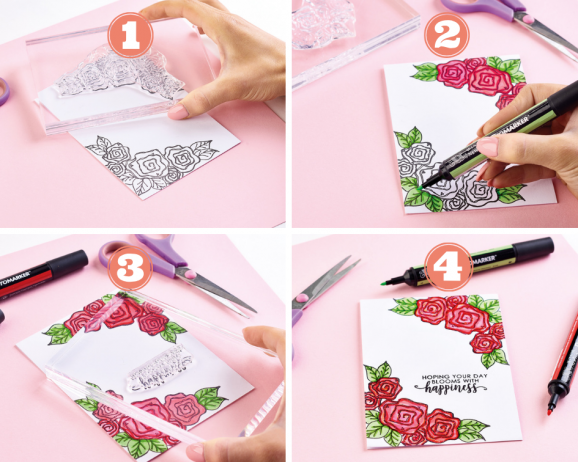 Something we get asked about all the time is 'Which ink pad do I need to use when I'm stamping and… using watercolours, heat embossing, colour stamping or alcohol markers?'. There is a different ink-pad for each application to ensure that you get the best possible results and there are particular ones that I love and would highly recommend for each job.
1 Using Versafine Onyx Black ink-pad, stamp a rose design in the top-right and bottom-left corners of the blank. Leave to dry.
2 Colour leaves with water-based markers and blend, going over the entire leaf with pale green. To colour the roses, use three shades, again blending them with the lightest colour pen.
3 Stamp the sentiment onto the front of the blank, between the roses at the bottom, using a Versafine Onyx Black ink-pad. Leave to dry.
4 Use Stickles Stardust Glitter Glue and trace around the outline of the roses, spiralling into the centre, squeezing gently to add a thin line. Repeat for all the roses and leave to dry.
3 Stamp Masking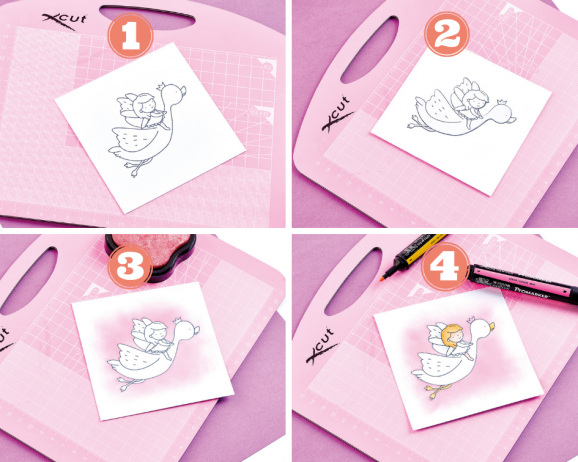 Stamps are truly a cardmaker's best friend. Not only are they an incredibly versatile tool to have, but they can always save the day when you're in need of a quick and easy image to provide that finishing touch. To add to their neverending list of functions, Kitty Frampton is demonstrating how to use them as masks to really transform these into a superior stash essential.
1 Stamp the image using black ink onto white stamping card, 11cm square.
2 Stamp the same image onto masking paper, carefully
cut out and place over the top of the previous image.
3 Gently blend ink across the whole panel to create a background. Remove the masking piece from the image.
4 Colour in the image using alcohol pens and assemble the card together as shown.
4 Stamps With Impact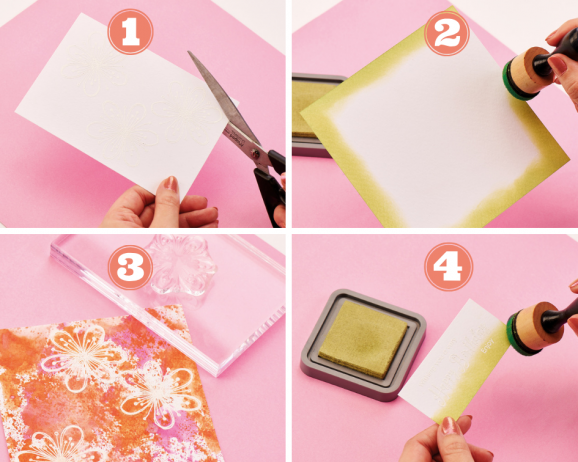 There's nothing we love more than cards that really make
you say 'wow', and this trio of greetings certainly does just that. There are several ways that you can give your designs the star treatment. We particularly like to use stamp and embossing methods on contrasting card and paper, or you can try your hand at adding dimension by cutting out a stamped image, then curling and shaping to make it really stand out!
1 Cut a square of watercolour card, slightly smaller than the blank. Using an ink-pad with a blending tool, ink around the edge, then attach to the card front.
2 On separate watercolour card, stamp the flower design three times using the embossing ink-pad, then emboss with Bright White powder. Add colour to the flowers, then cut out each flower and shape the petals.
3 Cut a second smaller square. Stamp and emboss flowers, then melt the powder. Create an inky background to the stamped and embossed square. Apply a little to craft sheet, then spritz. Pick up some of the ink with acetate, one colour at a time and apply to watercolour card.
4 Stamp and emboss a sentiment onto watercolour card. Cover with Bright White embossing powder and melt. Once cool, add colour using a blending tool. Attach the main inky background to the panel edged with green ink.
5 Pretty Outline Penwork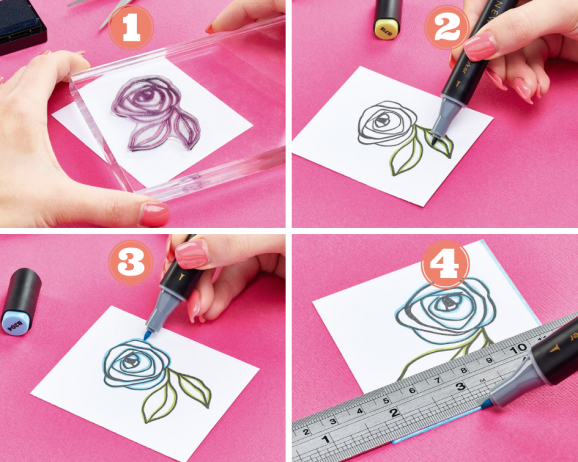 If you only use your marker pens for colouring-in, then think again: these versatile pens are great for outlining your stamped images, too. This simple penwork technique is perfect for newbies as it's fun, easy and perfection is definitely not required. To get started, choose a bright, bold colour palette, that's ideal for springtime cards and contrasts beautifully with the black stamping ink. When choosing stamps, pick designs with a loose, watercolour style – and don't worry about staying inside the lines. Use your markers to edge the card for a perfectly co-ordinated finish.
1 Secure onto a clear block and stamp the image with permanent ink.
2 Use the fine tip to carefully outline the leaves.
3 Outline the flower petals with the fine tip.
4 Run the brush tip of the pen along the edge of the card.
6 Easy Over Stamping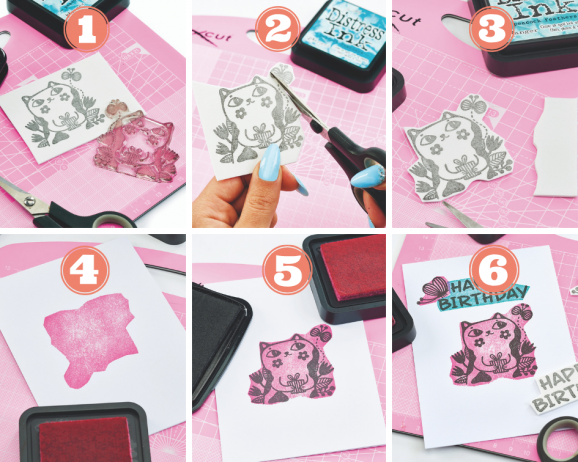 Colette Smith has come up with a similar technique that will give you amazing backgrounds using the stamps in your stash. All you need is some craft foam sheets which are easy to stamp onto and cut out, and can be used several times over. This charming card uses an image with a bold outline that looks great against the block background.
1 Ink up the stamp with StazOn and print the image onto craft foam, then set aside to dry. Using sharp scissors, cut out the image from the foam.
2 Use a glue stick to attach the foam to an acrylic stamp block. Make sure the image is face down on the block.
3 Gently apply coloured ink to the foam with a gentle tapping motion. Stamp the cat image onto a card blank. Ink the original motif with black and stamp over the foam one.
4 Repeat with the sentiment and butterfly images. Add a strip of patterned paper to the bottom of the card and finish with a bow and gems.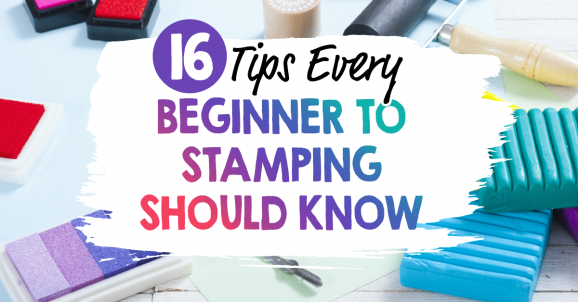 We've all been there – you want to learn a new craft but have no idea where to start. We've put together this guide to help you pick up some tips and tricks to become a master stamper in no time at all! Stamping is often used with cardmaking, so grab a cuppa and take a read of these hints to up your papercraft game. What's your favourite stamping hack? Share your tips and tricks with us in the comments!
Busymitts
Share your makes