Blog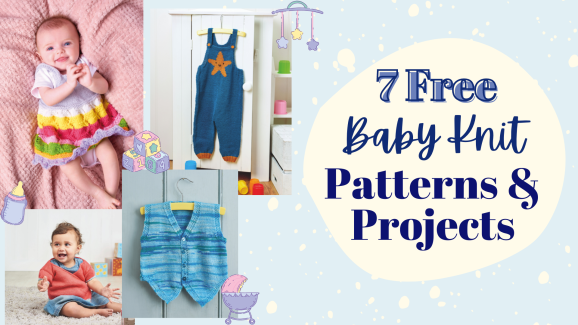 Classic baby knits have boomed in popularity over the years thanks to the likes of the royal children, particularly as they've grown up, we've seen their influence has led to a rise in children's knitwear in retail and an abundance of similar knitted patterns emerging from the craft world. The resurgence has inspired us to get our needles out, and with what seems like an endless choice of patterns and fibres, we're rounded up our favourite free projects and top tips so you can get started on making something tiny and cute for the little one in your life!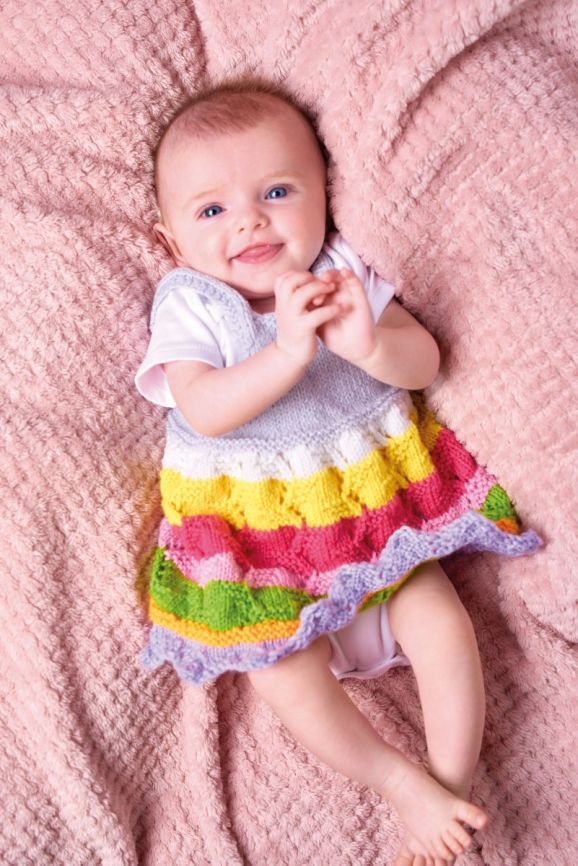 Let's Knit
This little make by Aine Marriott is perfect for summer or can be worn with a top underneath for year-round baby chic! Tiny model Dottie looks exceedingly sweet, and we love the way this has been designed as the silver bodice really makes the bright shades pop. This would fit a baby aged between three to six months and is made up using kitchener stitch, a way of grafting live stitches together to create a seamless join – don't worry if you're a bit unsure, we guide you through it with a full tutorial!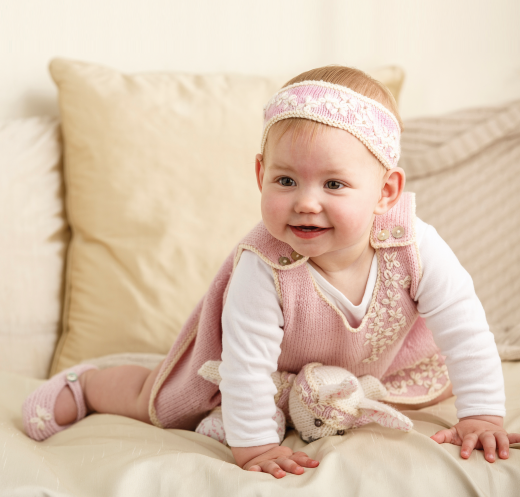 Crafts Beautiful
A gorgeous knitted headband is an essential accessory for any little princess in the making! We love this project which also shows you how to make matching booties by designer Susan Campbell. Knit in a slightly more luxe yarn so it can be handed down through generations as a delightful legacy accessory. Get the full step-by-step instructions and start making tonight!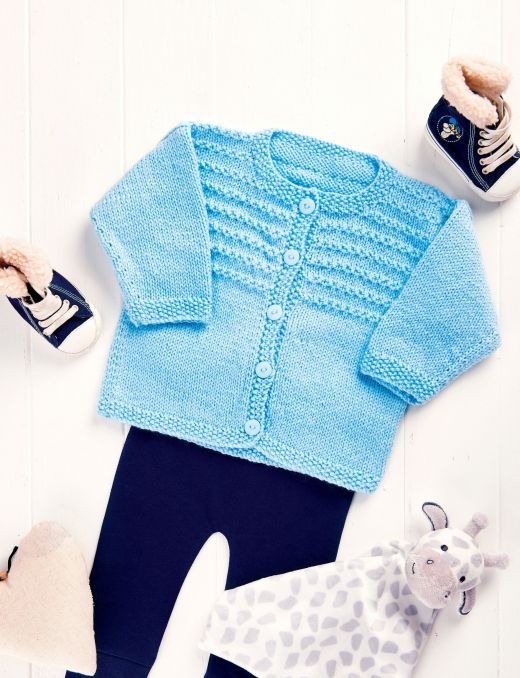 Crafts Beautiful
Not only is this charming cardigan by Penny Hill a timeless make, the textured effect is really easy to recreate. It's a wonderful unisex make and will fit a little one aged 0-3, and can even be made more feminine by embroidering little flowers on the front using a lazy daisy stitch. Go the extra mile and add decorative buttons to make this all the more personal!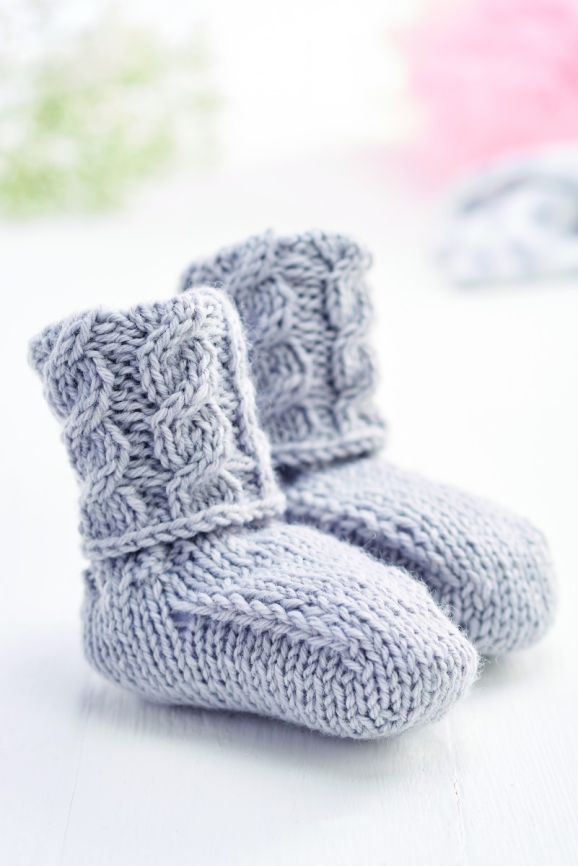 Let's Knit
Keep little feet wrapped up in style with these tiny booties designed by Nicola Valiji. Using only one ball of wool, these would make a gorgeous gift for a new arrival. If you are feeling ambitious, you could experiment with different colours to produce a full set. Despite the slippers being small in size, the cable knit detail ensures they make an impact!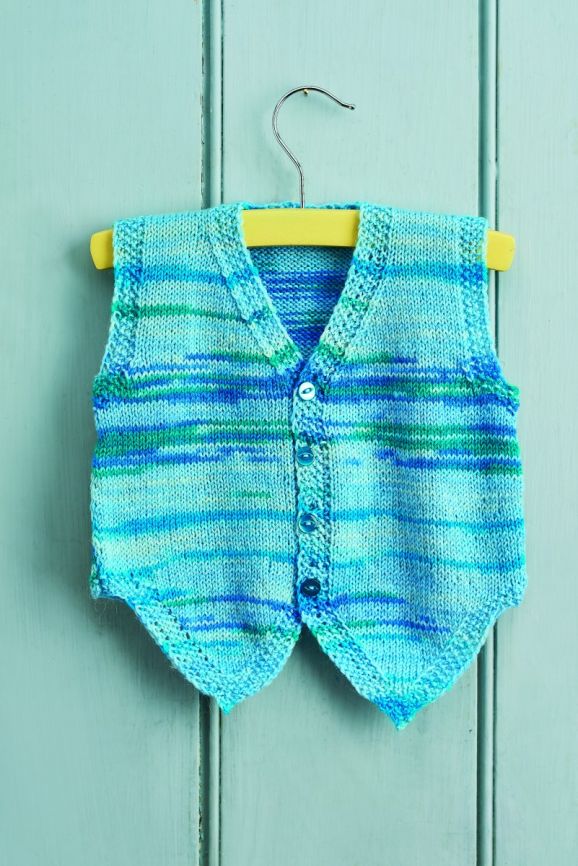 Let's Knit
Knit Lesley Arnold-Hopkins' waistcoat with just one ball of wool. This project uses reverse shaping to ensure the right front is a mirror image of the left and is made using a moss stitch to fit sizes three months to five years. Use super-soft yarn designed with delicate skin in mind and there will be no complaints from even the youngest recipient!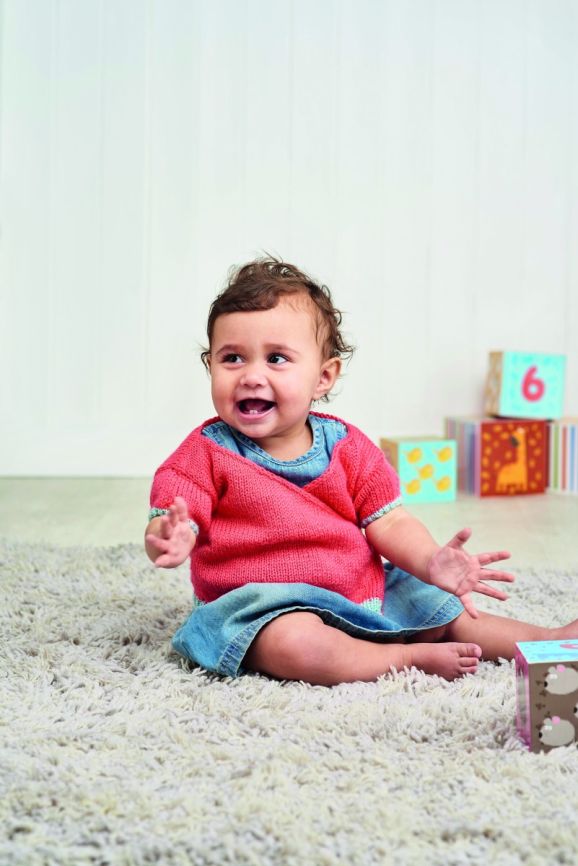 Let's Knit
Also known as a heart-warmer top, this versatile garment would look lovely paired with a dress, bodysuit or tiny trousers. The practical double ties will stand up against even the wriggliest of babies. Plus, the wrap-around detail provides plenty of room for adjustment. We love the pretty shades that designer Susie Johns has selected, but don't be afraid to play around with your own colours.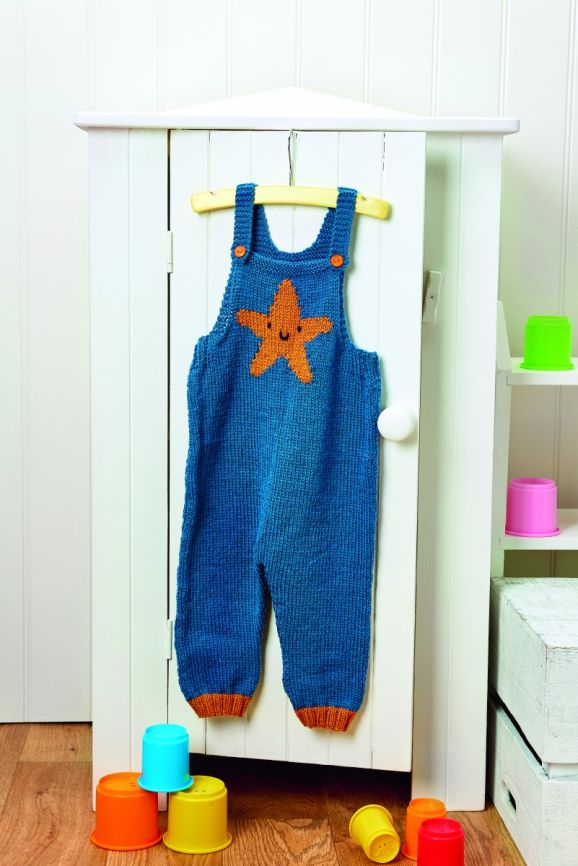 Let's Knit
Knit these darling dungarees by Zoe Halstead for your little star! This cute project will take your baby from crawling to toddling, all in perfect comfort. The wool-blend yarn is soft and cosy, so your little one will be super snug all winter long. The smiling star is worked using the intarsia colourwork method, and don't forget to factor in growing room when choosing what size to make!
Got a little one on the way? Why not also whip up this stitched gift set to go with your knit!

Busymitts
Share your makes