Tagged Content:
Articles tagged with "pyramage"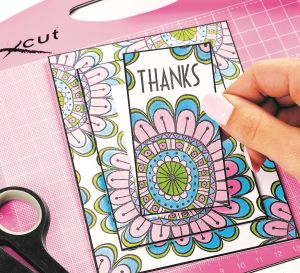 Tags:
What better way to send a 'thank you' to a friend than with a bright and impactful design. Here I've used a triple stamping technique where three pieces of card in different sizes are stacked up and stamped just once. When the layers are separated and matted with foam tape, it gives a raised appearance similar to pyramage. Bold images work really well for this technique, as some of the detail can be lost around the edge of the card pieces. I have used a lovely flower stamp by Woodware, but any bold florals from your stash would work well. Colour the images in your favourite medium, and you'll have a perfect card to brighten up those dark January days.
Download now »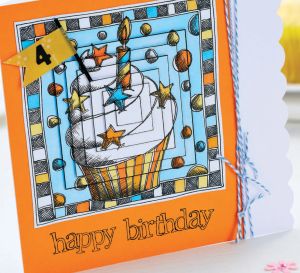 The Pyramage technique is an alternative form of the classic 3-D decoupage used by card makers and a fun way to design dimensional cards, especially if you want to get the kids involved with the making process. The main image is built up using graduating layers of the central design to give a pyramid shape to the card. Traditionally square or rectangular layers are used, but layers can also be round, oval or any shape you wish. Nesting dies are the ideal way to create your own Pyramage designs. Just make sure that the same section of the main image is used and that each layer is lined up perfectly with the one below. I've created a simple design for this tutorial, which is easy to replicate if you've never tried Pyramage before. Coloured in with bright, cheery shades, it makes a perfect card for a child's birthday whatever the age.
Download now »