Tagged Content:
Articles tagged with "placecards"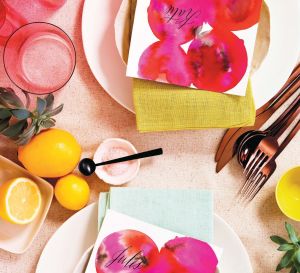 Tags:
Watercolour place cards are a fun and unique way to add vibrant colour to a dinner party or other gathering. Since watercolours are meant to be imperfect and fluid, even if you have never painted before, the results will amaze your guests — each one is a work of art that they can take home.
This extract is reprinted from The Gift of Calligraphy by Maybelle Imasa-Stukuls, published by Watson-Guptill, RRP £21.99, available online and from all good bookshops.
Download now »