Tagged Content:
Articles tagged with "charity"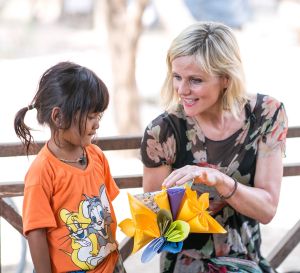 Tags:
While in Cambodia, Linda Barker discovered a simple way to create a beautiful flower decoration using paper. Why not make your own in aid of World Vision UK's #FloralFriday? For more information, visit http://bit.ly/1KmKjux
Download now »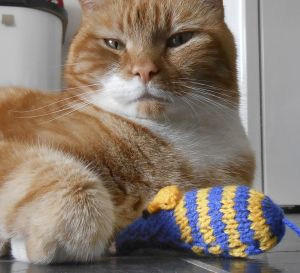 Tags:
Unwanted cats around the UK have been enjoying fun and games as they wait to find new homes, thanks to an army of crafty cat lovers. Cats Protection, the nation's largest cat charity, successfully appealed to knitters last autumn to make cosy blankets and toy mice for cats in its care and, with The Spring Knitting & Stitching Show being held from March 5-8, is doing so again.
"Cat-loving visitors to The Spring Knitting & Stitching Show are always welcome on our stand," said Emma Osborne, the charity's Events Manager. "We will happily take donations of knitted goods for the cats and, for those who have not yet had time to knit, free copies of the popular Captain Cat-Battler knitted mouse pattern will again be available."
The pattern - originally designed by Lauren O' Farrell (http://www.whodunnknit.com) - is available to download for FREE here. Details of local branches, adoption centres or shops where knitted mice or blankets can be donated can be obtained by ringing Cats Protection's Helpline on 03000 12 12 12 or emailing .(JavaScript must be enabled to view this email address)
Emma said: "We were so heartened at last year's Ally Pally Knitting & Stitching Show by the interest in the knitting bee. We have anything from 5,000 to 6,000 cats in our care at any one time, so there is a huge demand for toys and cosy blankets.
"The Captain Cat-Battler design has been such a hit with the cats and we're very grateful to everyone who has made them and have enjoyed seeing lots of creative and quirky designs."
Cats Protection advises that when knitting a toy or blanket, it's best to avoid the use of stretchy yarns or small plastic items – such as those that can be used for mouse eyes – to reduce the risk of injury to cats and kittens. Loose weave blanket patterns involving the use of large needles are best avoided too. The charity also suggests that cat owners regularly inspect cat toys for signs of wear or damage, not to leave cats unattended with knitted toys, and not to use knitted toys or blankets with cats that have wool-chewing habits.
The Spring Knitting & Stitching Show takes place at Olympia Central in London from March 5-8. More information can be found at http://www.theknittingandstitchingshow.com/spring/
Cats Protection is the UK's leading feline welfare charity and helps over 194,000 cats each year through its national network of over 250 volunteer-run branches and 31 adoption centres.To find out more about the work of Cats Protection, please visit http://www.cats.org.uk
Download now »