Designer: Crafts Beautiful

Tags:
Stamp Becky James' delightful cards reminiscent of days cycling in the country
What you need...
Stamp, Crafty Individuals, Country Days

Papers, Craftwork Cards, Jukebox

Marker pens, alcohol-based, First Edition

Distress ink, Tea Dye

Ink-pad, Memento, Tuxedo Black

Card: black, white, red

String

Die-cut greetings

Stickers, Tim Holtz Idealogy, Letter, Chit Chat

Nesting Dies: Circle, Scalloped Circle

Palm punch, Xcut, small heart

2-in-1 corner rounder

Wooden bunting,

Papermania
instructions
Happy Birthday - 1 Stamp the bicycle image onto white card, 7.5cm x 10.5cm. Colour with alcohol markers, choosing a pink and periwinkle palette for the flowers. Apply a hint of ink around the edges of the image, then matt to arch patterned paper, 8.5cm x 10.5cm. Mount onto black card, leaving a narrow border along the top and bottom edges.

2 Trim floral paper, 9.5cm x 14cm. Add ticket tab corners to the bottom of the panel. Matt onto black card leaving a narrow border. Create an A6 tent-fold base from sturdy white card and cover with patterned paper.

3 Wrap brown string around the base of the stamped image. Attach to the card front just above the inverted corners. Trim two strips of diamond paper, 1.5cm x 6.5cm and 1cm x 5.5cm in size. Snip an inverted V into one end of each and matt to add a narrow black border. Position just above the stamped panel using foam pads.

4 Complete the decoration with a die-cut greeting on the bottom right of the picture and buttons on the left-hand side of each flag.

Roll With It - 1 Working in a landscape orientation, cover an A6 card blank with black card. Matt a piece of circular patterned paper above this, leaving a narrow frame. Create the vertical panel by layering flower patterned paper, 5cm x 10.5cm, onto black card leaving a border along a 10.5cm side. Attach to the card front just in from the right edge.

2 Stamp a cycle onto white card, 9cm x 10cm. Position the image so that the back wheel overlaps the left edge and the cycle appears to be rolling into view. Colour with alcohol markers choosing cream, pink and lavender hues for the blooms.

3 Matt the image onto black card and attach to the card front, butting the rear of the bicycle against the left edge. Cut a panel of diamond paper, 5cm x 10. 5cm, and once again attach to black card. Add to the card, bottom-right of the
project, overlapping the front wheel of the bicycle. Finish with a greeting made from label letter stickers and black gems to the top-right of the image.

Circle Frame - Try making a different shaped aperture with a die-cut circle. When you add the stamped image, place the focus on the cycle front and basket. Add soft shading to the bouquet with lemon, pink and periwinkle markers. Die-cut a frame using a 10cm diameter scalloped circle and 7.5cm circle, and embellish the edge with self-adhesive gems. Give the finished card a rustic look with a twist of brown string tried in a bow.

Projects you may also like...
July Issue
on sale now!
FREE Inside:
124 Stencil design kit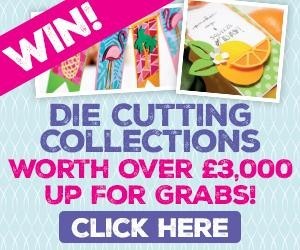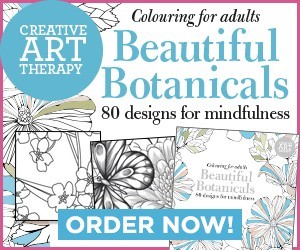 Crafts Beautiful Edition
Get all of your crafting essentials sent straight to your inbox!
Busymitts
Share your makes