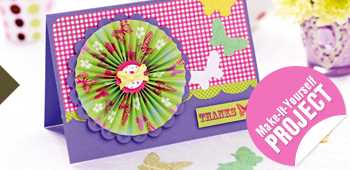 Scalloped Circles Card
Try concentina effects with this pretty card
You will need...
LMC 57 kit
die-cutting machine
glue
Scalloped Circles Card
Scalloped Circles Card
Trim a rectangle of pink checked paper, round off the top corners and stick to the top of a purple blank. Add a green scallop-edged border underneath and put to one side. Die-cut a large scallop-edged circle from purple card and mount to the left of the blank using 3D foam pads.

Trim two strips of green patterned paper and score at 5mm intervals. Fold in position and join the two pieces together to create a circle. Cover the purple disc with a thin layer of glue and gently press the concertina shape on top. Hold in position for a minute to allow to dry and set in place.

Die-cut a small scallop-edged circle from pink card and mount onto the pleated circle with 3D foam pads. Tie yellow ribbon through a chipboard button and stick to the centre of the pink circle. Attach a 'thanks' die-cut to the bottom right with 3D foam pads and glue three butterflies onto the right of the card.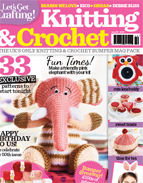 Let's Make Cards Magazine
This project was taken from Let's Make Cards Magazine
You can easily subscribe to Let's Make Cards magazine and make a big saving on the cover price