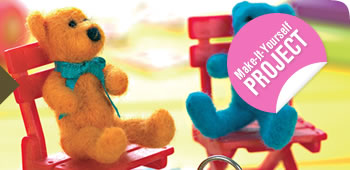 Ready Teddy Go
Create a collection of adorable colourful characters with this fabulous no-sew technique
You will need...
Fleece, spun, brights
Foam, furnishing
Needle, needle felting, 38 star
Pipe cleaners
Pliers
Teddy Bear
1. Cut a long craft pipe cleaner into three pieces to create a bear-shaped armature. Bend one section into a figure eight to form the head and body. Twist the remaining two around the frame to make legs and arms. Fold over any sharp ends with pliers.

2. Take a small piece of white fleece and roll it into a ball. Stuff this into the centre of the body, then wrap a coloured length around it to secure. Lightly stab with a felting needle from both sides to hold it in place.

3. Wrap matching coloured fleece loosely around a leg, ensuring the end of the pipe cleaner is completely covered. Lay it on a foam mat and begin stabbing right through with the felting needle. Peel it away from the pad, turn 90° then start working it again, continuing in this way until the fleece is secure.

4. Hold the leg between your thumb and forefinger and carefully stab into the felt, keeping the needle almost parallel until all loose ends are meshed in and it appears solid. Add extra fleece at any time to pad out areas where necessary, then merge the top of the leg with the loose fibres found around the body.

5. Make the other limbs in the same way. Wrap the body section with more fleece and begin stabbing to firm up the stomach. Add more layers to the front to form a pot belly, then continue working to create a seamless finish. Roll another ball of fleece to fill the head loop and lightly prick.

6. Wrap fleece round the neck and head section. Try to make a definite muzzle shape while stabbing the wool in place. Go over the whole bear again to tidy up, re-bending the armature if necessary to get a realistic pose.

7. Make two ears by stabbing small amounts of fleece onto the foam pad. Peel away and turn over, shaping as you go. Hold it between your thumb and forefinger, then work gently to smooth the outline. Leave a small amount of unfelted fleece at the base of the ear and use this to attach it to the top of the head by stabbing it in with the felting needle.

8. Take tiny amounts of black felt, then use the stabbing technique to attach them directly onto the head to make the eyes and a nose. Tidy up the finished bear by trimming any stray ends with small, sharp scissors.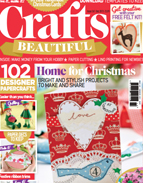 Crafts Beautiful Magazine
This project was taken from Crafts Beautiful Magazine
You can easily subscribe to Crafts Beautiful magazine and make a big saving on the cover price
Top Tips
If you make a mistake when felting the eyes in place simply pull them out carefully and start again