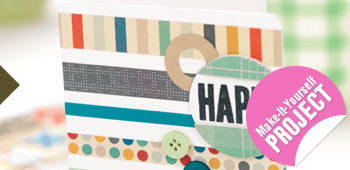 Man's world
Construct on-trend pinwheels and chevrons to embellish Keren Baker's card ideas for him
You will need...
Card, Kraft, coloured;
American Crafts, Chap: Dave,
Grant, Mike, James, Tim
Stamps, American Crafts:
Pebbles Birthday set
Buttons, assorted
Twine, natural
Punch, circle: 1.2cm, 2.5cm,
3.5cm, 4.4cm; corner rounder;
Crop-A-Dile or small hole
punch
Ink, black, yellow, light blue,
dark blue, green, red
Brads, yellow, red
Adhesives
Scissors
Happy stripes
Glue nine strips of patterned papers, ranging from 3mm to 1.5cm wide, along a 15.5cm x 20.5cm card blank and trim the ends.

Stamp 'Happy' in black onto white card and use a 4.4cm circle tool to punch it out. Cut a 2cm strip from the middle of a checked blue circle to leave two semi-circles. Stick one above the 'Happy' stamp and the other below, using 3-D foam pads.

Punch a 1.2cm circle from Kraft card, then punch a 2.5cm hole around this to create a hoop shape. Stick 3cm from the top right edge of the card, with the 'Happy' circle. Round off the corners and add three decorative buttons, as shown.


You're fab
Pick seven strips left over from the happy stripes design and cut triangles from one end of each to create forks. Stick the strips onto white card, 3cm x 11cm, so they overlap the card slightly. Adhere this piece 2cm from the bottom of a card blank,11cm x 12.5cm.

Wrap 11cm of natural twine around the width of a 2cm x 11cm strip of checked green paper three times and knot. Slide to the right-hand side and adhere the strip 4.5cm from the bottom of the card, covering the previous strip.

Stick Kraft cardstock, 6mm x 11cm, 3mm above the green piece. Punch five, 1.2cm circles from patterned papers and adhere to the green strip. Die-cut 'fab' and stick to the right-hand side of the card. Stamp 'you're' in black to the left of 'Fab'. Add an orange button with glue dots.


Chevron invite
Create chevrons from yellow patterned paper, plus checked green, blue and red cards, using the technique for the birthday pinwheels design. Stick these onto a card blank, 10cm x 21cm.

Adhere a 5mm wide strip of Kraft card, 2cm from the bottom of the blank, and a 1cm wide grey strip, 7.5cm up. Add the chevrons, referring to the image for guidance.

Create a 3-D circle with white and spotty cards, using the technique for the happy stripes design but using a 'you're invited' stamp. Adhere this to the card with three decorative buttons, as shown.


Birthday pin
wheels Fold a white card, 15cm x 24.5cm, in half to create a blank. Stick striped blue and white paper, 14.5cm x 11.5cm, to the centre. Adhere spotty paper, 1.5cm x 12cm, 1cm from the right-hand edge.

Cut ten, 3cmlong red paper strips at 45° angles. Pair them to create chevrons and glue four sets to the card. Add the last pair to the bottom with 3-D foam pads. Stamp 'Happy Birthday' in black ink to the top-right corner of Kraft card, 9cm square.

Stamp a red, yellow, light blue, dark blue and two green pinwheels onto white card and cut out. Add a yellow brad to the centre of the light blue one and a red to the dark blue.

Stick ledger paper, 3cm x 8.5cm, 5mm up from the bottom of the Kraft square. Adhere each of the components onto the card, referring to the image for guidance and using 3-D foam pads for the pinwheels with central brads. CB

3-D foam pads give dimension to projects and block-coloured elements, such as buttons, will lift a muted palette of colours