FREE REGISTRATION REQUIRED
Home Sweet Home
Downloads :: Card MakingPapercraftHome
Added: January 2008
Filesize: 24Kb
File Type: .zip
Licence: Free, non-commercial use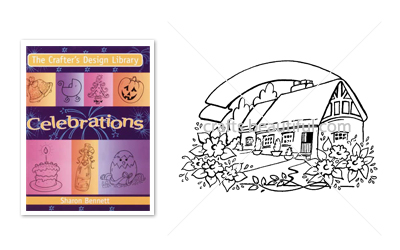 Description:
Congratulate friends on a new abode, or create a fab picture to hang on the wall by enlarging this charming design
There's no place like home, and this adorable motif certainly captures the essence of a relaxing haven away from the world. It's the ideal design for a 'new home' card, and can be shaded with pearlescent chalk for a soft appearance or brush markers for a vibrant look.
Details:
This motif is taken from Celebrations (A Crafter's Design Library) by Sharon Bennett (David & Charles, £12.99). To order a copy, see http://www.davidandcharles.co.uk
To view more of Sharon's work, visit http://www.sharonbennettcrafts.co.uk
This design is copyrighted and must not be made for resale or industry.
Copyright Info:
Thank you for choosing to download a Crafts Beautiful project template. The copyright belongs to the project designer and Aceville Publications Ltd, so selling or distributing the material to a third party is prohibited. We don't mind if you share it with a friend, but please do not make multiple copies without our permission. Copyright law is there to protect the work of the originator and unauthorised copying is illegal.
REGISTER AND TAKE ADVANTAGE OF THE FOLLOWING: (IT'S ALL FREE!)
Amazing

competitions

and

giveaways

Chat Crafts and make new friends in our new look

forum

Inspiring

Downloads

including

Templates

&

Backing Papers

Online

craft demonstrations

from our jam-packed

video archive!

The latest

news

and

offers

, straight to your inbox!
Get all this and more for FREE, click below to be taken to our easy registration form